Addis Ababa - capital of Ethiopia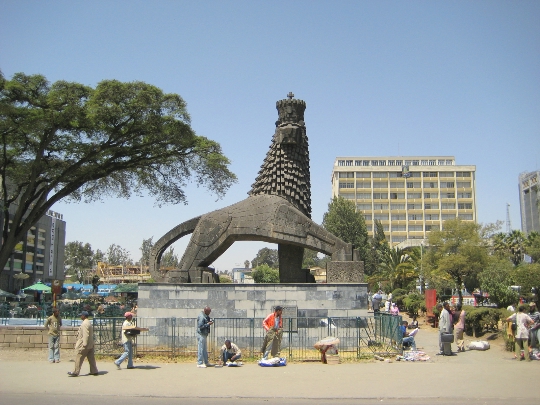 This African city set of missions: Firstly, Addis Ababa - capital of Ethiopia, and secondly, it is the capital of the so-called African Union and its predecessor. The uniqueness of the city lies in the fact that the state has no outlet to the sea, and the number of inhabitants of the capital has exceeded 3 million.
Dream woman and city in the world
The name translates very Ethiopian capitalbeautifully - "New Flower," and yet it is called African Paris. The most beautiful legend about the appearance of the city is connected with the name of Emperor Menelik II. It says that the city was founded by the monarch in 1886, not on a whim, but because requested by his wife, the Empress of Tahiti. She liked the nature of the terrain, as well as unique mineral springs, which help maintain the beauty and health. Therefore, the emperor built the palace for his beloved wife, then appeared near the mansions of other nobles. To this day you can see the old eucalyptus trees planted personally by Emperor Menelik II.
Confessional composition of Addis Ababa surprisebecause there are people of many nationalities, from different regions of the country. There are fans of the traditional beliefs of the Black Continent, as well as Muslims, Christians and Jews.
Museums & Attractions
Addis Ababa is proud of its museumagencies, funds and their rich original exposures. It is in the Ethiopian capital are: the National Museum; Museum of Addis Ababa on the history and modern life of the capital; Museum of Ethiopia; Ethnographical museum.
Due to the fact that the capital inhabited by people of differentconfessions, tourists in Addis Ababa can go on an interesting journey through the places of worship of the capital. The program can include a visit to St. George's Cathedral, Holy Trinity Cathedral, Anwar - the largest mosque Ethiopia. Among other attractions - Mercato market built during the Italian domination, and the stadium.
And in the center of the city is a monument to the geniusRussian literature, the great Alexander, whose ancestors supposedly had Ethiopian roots. Meeting with the favorite poet for many tourists becomes an unexpected but pleasant surprise. Therefore, many photos you can see the familiar profile of Pushkin.
Photo