Traditional cuisine of Ethiopia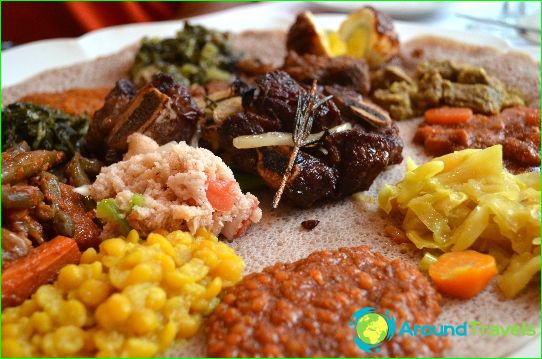 Dining in Ethiopia is characterized by the fact that in the big cities you will be able to enjoy as a variety of local and international cuisine (food prices moderate in the country).
Food in Ethiopia
In Ethiopian cuisine influenced cookingtraditions of neighboring countries (Somalia, Eritrea). Its main difference is the lack of cutlery and plates - used instead inzhera (tefovaya tortilla), and the use of all kinds of spices that season almost all meals and beverages (cardamom, thyme, saffron, mustard, red pepper, basil, coriander).
Ethiopian food diet consists of meat, fish, vegetables, fruits, legumes.
In Ethiopia, should eat a dish of stewedeggs and onions, flavored with spices ( "FEP"); roast meat in a spicy sauce ( "tybsy"); paired with meat sauce and local cabbage ( "bryndo"); eggs in the African (toasted bread, on top of which lay the ham and eggs, cooked boiled).
Lovers of the exotic can enjoy "akpolukazu" - a dish made of palm leaves, and several species of worms; spiders and locusts fried in palm oil; meat of snakes, lizards and crocodiles.
A sweet tooth should try breadfruit (their taste resembles gingerbread), and fresh fruit in syrup, jelly, mousses.
Where to eat in Ethiopia?
At your service:
- National, Chinese, Indian, Italian cafes and restaurants;
- Snack bars and other fast food places.
Local cuisine can not be called useful and tasty,often because national institutions are served overdone fish, overcooked vegetables and meat peretushennoe. In addition, Ethiopian restaurants are often yesterday's half-eaten food on the following day, fry in oil, "creating" the most new dish.
Drinks in Ethiopia
Popular Ethiopians drinks - coffee, tea, juices, camel milk, barley beer (the tell), white and red wine, honey and herbal brew (Taj).
There can and should drink the beer factory and categorically should not try home-brewed beer (it has a bitter taste, and in a pot in which it is poured, often something floats).
Gastronomic tour in Ethiopia
The gastronomic tour of Ethiopia, you will not onlyYou can taste the unusual and exotic national dishes, but also to take part in a ceremony associated with the consumption of coffee (this ritual is carried out in the Ethiopian cafes and restaurants, as well as in the homes of local residents).
Rest in Ethiopia - a great opportunitygo on an eco-tour (African savanna, national parks, relict forests, lakes, waterfalls), see the religious, cultural and historical sites at the premises of Addis Ababa, Lalibela and Gondar, taste the culinary delights of Ethiopian cuisine.
Photos national Ethiopian dishes