Cruises in Europe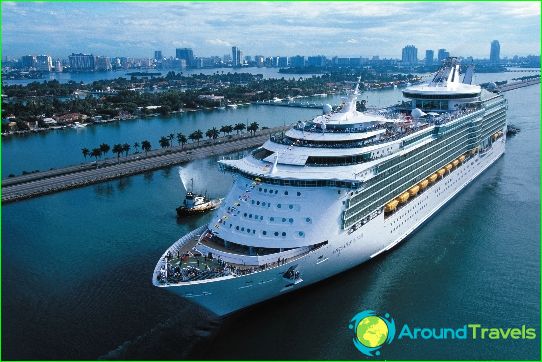 Do not be surprised that Europe cruisesfrom year to year it is becoming more popular. The reason for the popularity lies not only in the exceptional comfort of these journeys and the atmosphere of romance, and for the most part in the "range" of cities and countries, which can be visited in one trip and variety of excursions offered during the cruise.
Travelers of all ages, with differentinterests - families with children, honeymooners, friends and older couples will be able to find at sea or river walks that they are really deeply interested, for the sake of what they went to a short trip on the waves ... and all of this can be seen in a short time .
Cruises in Europe
The choice of sea cruises in Europe todayday is sufficiently large so as not to meet the demand of a large mass of fans of voyages along the coasts of Europe. It offers an extensive collection of Mediterranean cruise with stops in picturesque ports of Greece, Italy, Croatia, Spain, Malta, France ... England, Ireland and Scotland, you are welcomed by friendly winds. Iceland impress unique landscapes, which can compete only the Norwegian fjords with their fantastic views. Scandinavia you'll be amazed its stark beauty and the hospitality of the inhabitants.
Getting off on the beach, you will visit the set ofinteresting cities, you will see the most famous European landmarks. Or maybe you just sit on the waterfront in one of the cafes, to feel the atmosphere of the seaside town.
River cruises in Europe
A huge variety of cruises on the waterwaysEurope, with its picturesque towns and villages scattered along the banks, allow you to enjoy the routes, which for centuries enjoyed the descendants of the inhabitants of modern Europe. You will be able to see the familiar city with an unusual side - because they once saw merchants arriving with goods, as well as now, the lively ports of East and South, and Western Europe.
Choosing a cruise on the Danube, you will walk along the banks of Austria, Slovakia, Hungary, Germany, Croatia.
Having made the choice in favor of beautiful Rhone, you will enjoy the landscapes of the French provinces.
Walking on the water surface of the Rhine, slowly moving through his deep gateways, you will see France, Belgium, Germany, Switzerland.
Which cruise you would prefer - or riversea, whatever route is chosen - in any case, in this journey, you are sure to get an unforgettable experience, even if during the voyage never get off the board luxury liner, which briefly becomes your cozy home.
Photo cruises in Europe