Cruises in the Baltic States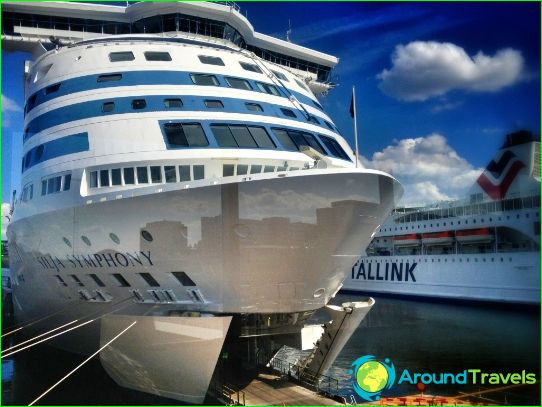 In the Baltic republics once removedthe bulk of the Soviet movies about foreign countries: so beautiful and unusual were the cities of Latvia, Estonia and Lithuania. Their medieval charm and today attracts thousands of tourists, who among other routes prefer cruises in the Baltic States on ferries and cruise ships.
Champagne as a gift!
All guests are greeted with champagne on board, andCruises begin with an introductory walk through the ship. Modern cruise ships are equipped with all necessary facilities for a comfortable stay. Travelers will find cozy cabins with spacious bathrooms, a restaurant and cafe with a varied menu, entertainment centers, free trade zones and numerous souvenir shops.
During the ship's stay, guests go ashore andsee the sights of the Baltic cities, and to return to the tourist board offers a fascinating musical program evenings, interesting contests and concerts. For children during cruises in the Baltic states held a special cultural program, so that this route will be an excellent way to spend a few days with the use of the school holidays.
A special attraction for cruisesBaltic States are among the fair half of travelers. Changing the city and the country, going every day to get acquainted with another interesting place, do not need to take care of things and fees suitcases, because they move along obediently with the hostess on board.
At the Riga coast
One of the brightest stars on the shore of the Baltic Sea - Jurmala. The famous Latvian resort on the Riga coast - it's not just the snow-white sand dunes and pine scent of the sea, but an infinite number of nice houses, the old center, paved sidewalks and healing springs with unique healing mud. Excursion to Jurmala certainly included in the main part of the program of cruises in the Baltic States.
No less interesting is the walk andLatvian capital. Albert Square and the Dome Cathedral, the Houses of Parliament and the House of the Blackheads - it is only a small part of all Riga attractions exhibited by travelers during a sightseeing cruise program.
in Europe
During the cruise on the Baltic region can be seenother European capitals. In addition to Riga and Tallinn and tourists are in the Nordic countries, because cruise lines often share common shores of the Baltic and the North Sea.
Photo cruises in the Baltic States