Railways in Europe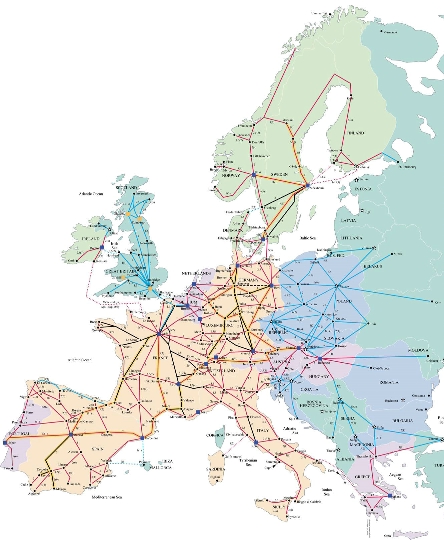 European railway network is developed very well. Travel on any route get comfortable. There are state and private railways in Europe. As it moved regional conventional and high-speed trains. English interface allows many websites to purchase quickly and easily w / tickets.
Features of the railways in Europe
European railways bind bothlarge and small towns. If the location is not the train, then there can be reached using the combined message: bus - train - ferry. Distances in Europe are not very big, so many manage to make the trip by spending a minimum of time. In one day, the passenger can cross several states. Short trip makes 80% of the passengers. Long trips interested in 20% of the tourists. The lion's share of state-owned transport provides - this is true in many European countries. Besides the national carrier railroads of local significance is divided among several private companies.
Railroads were built in Europeabout 150 years ago. In the 19th century the network was already quite extensive and dense. In the 20th century the European railway network connected to the UK via the tunnel located under the English Channel. The rail track that runs the tunnel at a depth of 127 m below sea level. At certain w / d lines ply high-speed trains - expresses that shape resemble a rocket and reach speeds up to 300 km / h.
Where to buy tickets
In Europe, there are not only the public, butand private w / d company. The site Eurostar high-speed trains - www.eurostar.com, you can see the rates for transportation. Timetable of high-speed trains plying between Belgium and France, can be seen on the website www.thalys.com.
European railway system is different fromRussian. The reason lies in the short distances. Many travel fit in a few hours. Therefore, the Europeans perceive the train as a daily means of transport. Almost all of the compositions are diurnal. In these cars are equipped with seating and interior reminiscent of the aircraft. The European train cars are distinguished first and second classes. There is also a division into compartments for smokers and non-smokers. By purchasing a ticket, the passenger usually do not reserve a place. He takes it upon boarding the train. To ensure that you get to a certain place, it should advance to reserve and pay 2-3 euros extra. Reservation - this is a mandatory procedure on some routes.
Photo