Restaurants in Europe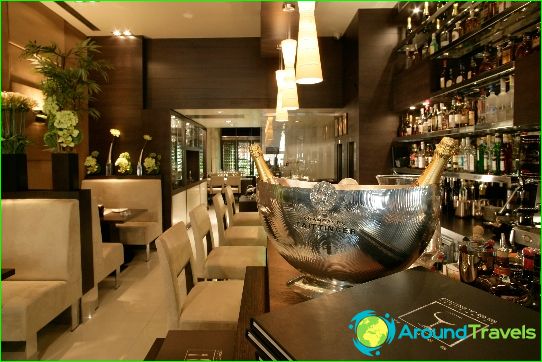 All the world fashion, including, and haute cuisineIt originated in Europe. It is the Old World for centuries up with current trends and concepts that new light, picking up on the fly, trying to pass off as their own. Are no exception and restaurants in Europe, where you can find a restaurant like, purse and culinary preferences. Tourists from around the world seek to Italy and Greece to try real pasta and Greek salad. They stormed the Eiffel Tower, to dine with a view of Paris, and with hundreds of other fans of beer tasting new varieties at the festival Oktoberfest in Germany. Culinary Europe responds to his followers in return, opening up new and original places annually.
For those who understand
For the jaded culinary monotony advanced Europeans come up with a few institutions, visits are not just remembered for a long time, but also sharpens all five possible human emotions:
The hearing may be to train during dinner inLondon «Dans Le Noir». This restaurant in Europe is renowned for being in his room complete darkness reigns, and therefore will have to listen carefully to discover the waiter approached and find out exactly what the menu offers.
The sense of touch is exacerbated during a romanticdinner in «Solo Per Due» in the Italian town Rietti. This restaurant is very small and is located in an old mansion of the last century. But it became his main feature, and the ability to be there only for two. Touches are a nice addition to the menu and to choose the perfect entourage.
Pleasant service boasts eyeRiga "Hospitalis". Its cozy rooms resemble a hospital, and the menu is "What the doctor ordered" in the best sense. Ecologically perfect meal served in nursing flirtatious waitress robes. And what could be more useful than a dinner in a restaurant in Europe for men's eyes?
At a staggering scents can be fullyfocus in the German « 's Baggers». More nothing can distract the customer from here the absorption of food, because food ordering system and its feed are fully automated, and no careless waiter did not violate the gastronomic idyll.
The taste and color of comrades there, according toclassic saying. But the restaurant «Le Restophone» Montpellier, France happy refutes this concept. Tables are equipped with telephones, with which you can discuss with any guest at another table and liked the taste of food, and a pretty blonde in a red dress. Misunderstood not stay, because the restaurant is in order and is designed: to argue about taste!
Photo