Best Ski Resorts in Europe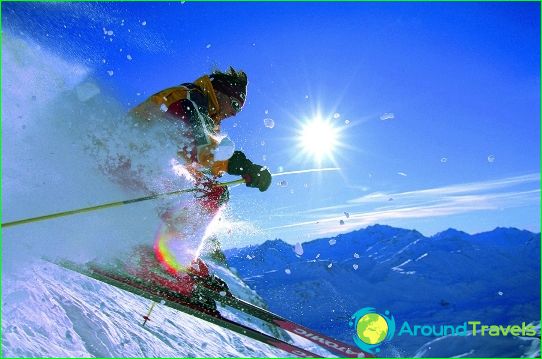 Acquired with thousands every year newfans of winter sports are popular in all countries and on different continents. Snowboarding and skiing stand all new fans to race on snow-covered hill with the wind and feel the adrenaline in the blood. Ski resorts are popular today is no less than a beach holiday, but because there tours sold out like hot cakes.
The cradle of Alpine skiing has always been consideredold Europe. It is here, in the Alps and Carpathians, the Pyrenees, and the Apennines grew more than one generation of avid fans of this winter sport, the joy of belonging which can not be compared with anything. Resorts of Austria and France, Switzerland and Andorra - Classic, which has become an example to follow. On their experiences studying Slovenia and Ukraine, Bulgaria and Poland. And now the ski area and in these countries attract their fans and surely break out in the lists of the best European resorts.
Switzerland
Stability and quality - two pillars on whichIt holds a lot in this country. In particular, the popularity of its ski resorts. Here, the highest level of service and over three hundred sunny days in a year, modern groomed slopes, equipped with the latest technology and entertainment zone with a variety of excursions. Contrary to popular belief about the high cost of the Swiss leisure, there are quite budget accommodation options - private apartments with reasonable prices.
The most popular resorts in the country - Davos, Zermattand Saas-Fee. St Moritz top of the world and called the place of a ski holiday is number one in Europe - here prefer to ride billionaires and movie stars, and Verbier appreciate professional boarders for a guaranteed high degree of safety equipment and tracks.
Austria
For the Austrian skiing and snowboarding - itlifestyle, hobbies and favorite form of recreation, and because the resorts in this country are made with a greater understanding and knowledge of the issue. More than 50 ski areas in the country not only offer tracks of varying degrees of complexity, but also snow parks with Trump, half-Piper and other attributes of a happy life for dosochnikov. Seven Austrian resorts operate all year, and race around the snowy virgin soil as possible and at the height of summer.
Especially loved by residents of Austria and its guestsresorts of St Anton and Mayrhofen Kitbyuel. The most visited is considered to Sainte-Christophe, which once originated skiing and snowboarders prefer Kaprun for its well-equipped fun park and halfpipe.
Italy
Skiing and Snowboarding in the ApenninePeninsula - this is not the only route of excellent quality but also great views of the surrounding nature. Many resorts are located so close to each other that lifts stratagem allows you to travel throughout the day in different areas. The level of prices for housing and rental of equipment will surprise even seasoned athletes, and traditional Italian hospitality will impress any guest.
My favorite from the residents themselves are Italy BormioCourmayeur and Kartina'd d'Ampezzo. Guests of the country prefer to Merano for a wonderful opportunity to soak in the thermal baths after skiing and take part in the magnificent Christmas sales.
France
Inexpressible atmosphere of romance and wonder reignsin the French ski resorts. Only the people of this country can create a perfect mood and atmosphere of universal joy and love. However, own ski slopes - also on the height and pick up the right conditions for a comfortable ride and very able Green Border, and veteran skiing snow parks in the best world pros. Do not think that the prices on vacation in France are too large. It is quite possible to find enough budget accommodation options and choose the economical program of leisure activities off the slopes.
The most famous French skiing areas forconsidered to be Megeve, Meribel and Chamonix. Famously Courchevel boasts not only the largest Russian oligarchs density per square meter, but also a variety of slopes that have been the scene of combat athletes for prestigious awards. But always snow in Val Thorens is ready to provide the opportunity for a comfortable ride to the end of spring, because on its territory there are peaks in height more than 3 km.
Where to rest cheaply?
The cheapest ski resorts Oldlight riding recognized place in Eastern and Central Europe. Topping the list confidently takes Bulgarian Borovets, where you can settle for 30 euros a day and buy a ski pass for the week for 130 euros. Second place - from Spindleruv Mlyn, which is located in the Czech Republic. Its attractiveness for dosochnikov is still in excellent equipment fan park. Slovenian Bohinj on a picturesque lake, the Macedonian Popova hat and Poiana Brasov in the mountains of Romania's short list.
Photos European ski resorts