Beaches in Cannes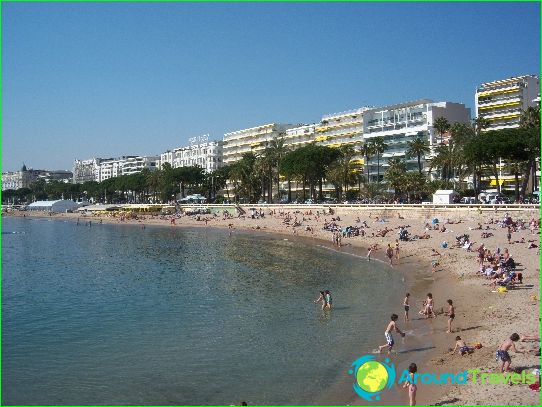 Along with the resort Nice Cannes can be calledbeach paradise of France. Of course, first of all the city it brings glory to the prestigious film festival, but the event at some point ends, and the city on the French Riviera continues to live, taking a lot of tourists. Cannes beaches amaze all the smallest golden sand and incredibly convenient descent to water. Naturally, most of the beaches are private, and stay on their cost is not cheap. Available alternatives are municipal beaches with free admission. Surprisingly, parasols and sun loungers can be rented here, but it will significantly cheaper than private traders. But precisely because of this accessibility is crowded and noisy.
No matter what the status of the beach in Cannes, but in any of them you will be able to ride on a jet ski and water-skiing, "banana". You can climb the glider behind a boat.
Public beaches in Cannes
France - the country where all the beaches are public. It is set by law. And now for you the best sandy beaches of Cannes
La Croisette area
1. Beach "Casino"
The central beach is located near the Dvortsa Festivals, open all year round. Often there are competitions in volleyball. Entrance to the beach free and pleasant, there is a free shower.
2. Beach "ISEAL"
Not far from the private beach "Majestic"located West Beach Croisette - "ISEAL." Here, in the days of the Cannes Film Festival is set huge screen where you can watch feature and documentary films. Attend this free beach all year round.
3. Beach "Square Verdun"
This small beach "settled" between privateterritories "Bijou beach" and "Sporting". "Square Verdun" is known for its diving school and the "Marine Club de la Croisette." Visit the beach all year round, though free.
4. Beach "Port of Palm Beach"
Zone La Bocca
1. Beach "Du Trou De Lonkr"
Near the town of La Napoule Mondelё locatedbeautiful beach with the equally beautiful name "Du Trou De Lonkr". He is renowned for being one of the first public beaches in the western part of the city. Login is still free.
2. The beach "La Bocca"
This area of ​​golden sand stretches for more than 3 kilometers, and everything here, except for a modest rental fee, free of charge.
Midi Zone
Beach "du Midi"
Beach "Laugier"
Beach "Mistral"
Beach "De Lyabrevuar"
Beach "Madrigal"
Playground.
Photos beaches in Cannes