Prices in Cannes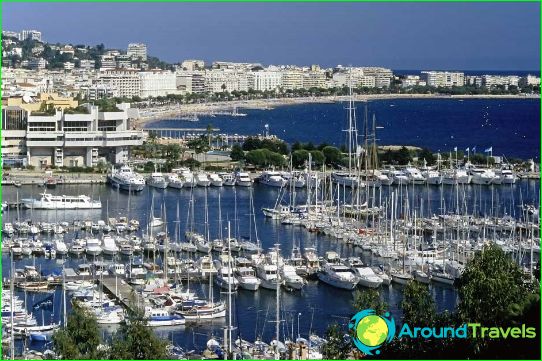 Cannes - the world famous French resort. It is situated on the shore of the beautiful bay of La Napoule (Mediterranean Sea) near Nice. The famous Cannes Film Festival is held in the city annually. Stars and movie fans gather on the beautiful Boulevard de la Croisette.
Prices in Cannes are high, as the resort is designedto wealthy tourists. This luxury vacation spot, so the cost of tours to Cannes is not reduced even during the low season. The best time to visit the city - and the summer velvet season (September and October). Tours to Cannes to be booked in advance, in February and March.
Accommodation at the resort
In Cannes are luxury hotelshigh-quality service. They invite rich people and world cinema stars. Many institutions of the city are decorated with bronze plates with the names of visiting their famous actors (Mickey Rourke, Bruce Willis, Luc Besson et al.). In total, there are over 100 Cannes hotels. Tourists can use the apartments that offer a comfortable and refined environment.
The average cost of a single room in a hotelResort - 110 euros per day. The cost of living depends on the level of service, the category of the hotel and its location. Renting an apartment will cost from 500 euros per week. Cannes, as well as Nice, are the leaders in France at a cost of square meters. meter. To purchase your own apartment in Cannes, you have to spend several million euros.
resort Restaurants
In Cannes, there are many cafes and restaurants - more than 600institutions. The level of prices in the restaurants is high. The most common toasts are sold at 12 euros, and burgers - at 30 euros. Dine at the prestigious institution is possible for 120 euros. Each restaurant visitors are guaranteed excellent service. Many have a dress code, so dress should be elegant. The size of the average bill for dinner per person is 70 euros. In Cannes, there are restaurants, working on a buffet system.
Excursions and Entertainment
In Cannes, there are well-appointed, clean beaches. There vacationers can rent a cabin, parasols, sun beds and mattresses. Children attend a mini-pools and play areas.
From the most famous attractionsare hill Suquet, Castres Castle, La Croisette, the Avenue of Stars, Palais des Festivals, and others. To learn about the history of each famous object, it is better to take advantage of a sightseeing tour. Its cost is 90 euros. Shopping Tour in Cannes is 75 euros per person. Take a stroll through the film Gangnam possible for 36 euros. An unusual excursion with a visit to the gardener-perfumer on the French Riviera will cost 144 euros.
Photo