The beaches of Marseille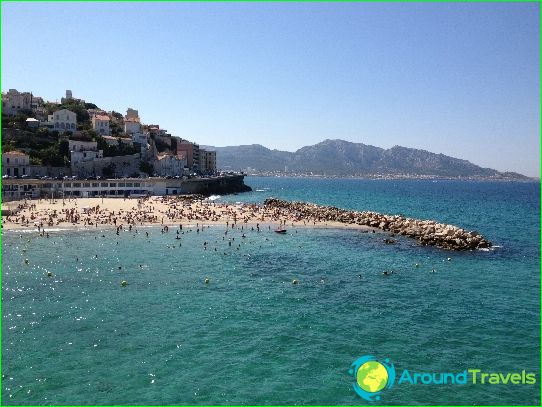 France welcomes tens of thousands each yeartourists on its territory, and not all of them linger long in Paris. Many prefer to relax on the local coastline and find these beaches among the best in Europe.
If you look at the coast of Marseille on the mapyou will notice that it is a small crescent. This crescent instead of many beautiful coves, bays and well-equipped beaches that delight even the most demanding of holidaymakers from all over Europe.
On the south coast there are comfortable small caves and coves with easy access to the water:
Sormiou
Sugiton
Port Pin
l'anse des Phocéens
Morgiou
En-Vau
Sablettes and many others.

For those who prefer the calm baycrowded beaches, it is important to remember that traveling with your own car in these areas can be a little complicated by the special French laws. The swimming season vehicles travel on the territory of the small coves banned, so will have to go to the beach on foot, or to pass on local buses. The beaches of Marseille are located along the coast, so that the very path to them is a fascinating journey with the possibility to admire the beauty of local nature.
Prado Park - a local landmark
Prado Park was founded in 1975, and since then,its territory had time to become a truly fabulous place. It is interesting that the park is open to visitors all year round and can accommodate approximately 3.5 million visitors. Active guests will find here something to do: the abundance of tracks for skateboarding, opportunities for surfing and windsurfing, as well as some fun in the game will not let anyone get bored zone.
Marseille: holiday for the whole family
Of course, the best sandy beaches of Marseillesequipped medical center, playgrounds, showers and room for changing clothes. Many services are available absolutely free of charge for travelers, provided advance payment of the entrance to the beach. In summer, on some beaches open stadiums, which hosts major sports events, both national and international level.
If you basically just relaxing on the beacheswith white soft sand, your best bet is to think about the rest of Prophète and Catalans. These are two adjacent south coast beach, located near the Prado Park. Here you will be able to book spa treatments, play volleyball or just relax in a deckchair in the shade of a huge parasol.
In the northern part of the coast is locatedmunicipal Corbière beaches. Here you will have the opportunity to try the delights of a more active holiday, cool off in the bar or take a stroll in the local gardens with exotic plants.
Photos beaches of Marseilles