Where to eat in Nice?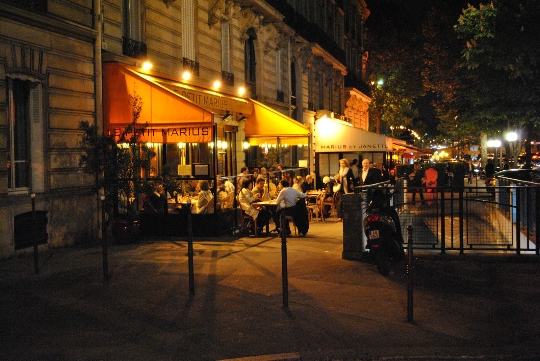 "Where to eat in Nice?"- A topical issue for travelers who come on holiday to this popular resort. Then open bakeries, cafeterias, fast food places, cafes, restaurants and grocery markets (buying fresh produce here, you can have a picnic in the park or on the beach).
Local food restaurants worth a trySalad "Nicoise" socca (chick-pea flour pancakes, fried in olive oil), onion tart (pissalader), ratatouille, stuffed vegetables (Farsi), seafood (octopus, prawns, squid, mussels).
If your goal - to taste authentic cuisine, look for food places on small streets of old Nice.
Where to eat in a nice inexpensive?
At lunchtime in many schools operateResorts, called MENU - at this time, you can eat delicious and relatively inexpensive. on this service Prices start at 10 euros (normally offer guests enjoyed a main course and a salad). Find out what the institution offers - not difficult: this information is reflected on a special board in front of the restaurant.
In search of inexpensive dining options worthlook at coastal restaurants located in the area of ​​Saint-Laurent-du-Var - prices here are quite reasonable, and it is here prefer to rest most of the locals. Another budget option - to visit the restaurant network Frunch: then meat or fish dish can be ordered for 6-10 euros, and a side dish to impose no restrictions, or for 5 euros - just a side dish (vegetable dishes, pasta).
Where to eat in a nice tasty?
L'Univers de Christian Plumail: This Michelin restaurant (chef of this restaurant is its own culinary show on a local radio station), which specializes in seafood dishes, like true gourmets. Here you can eat vegetable soup with lobster, mussels in garlic foam, most delicious oysters. In addition, the menu can be found and Italian pizza, which is prepared according to an ancient Roman recipe.
Le Vingt 4: the chef of this restaurant first merchandised fresh produce at the local market, after which is the menu for the day. If desired, you can go here to order a business lunch at a special price. This restaurant pleases its guests with French cuisine, the evening music program (here often perform jazz performers).
"Le Chantecler": This stylish and expensive restaurant offers a taste of Mediterranean and classic French cuisine. It is worth to try fricassee of chanterelle mushrooms and spaghetti, cannelloni with sauce from frog legs, apple pie soufflé.
L'Aromate: This restaurant serves veal in pastry with onions, mushrooms and herbs, asparagus with sweet cream and lemon balm, strawberry cake with vanilla cream.
Gastronomic tours of Nice
As part of the gastronomic tour you will visitolive mill (you'll learn how to make the best olive oil), taste the oil, olives and tapenade, and visit the vineyards and the famous castle of Nice - Château de Crema (here you will taste different wines).
While vacationing in Nice, you will be able to walk around the city and the promenade, visit museums and theaters to enjoy a beach holiday and a taste of French cuisine.
Photo