Beaches in Paris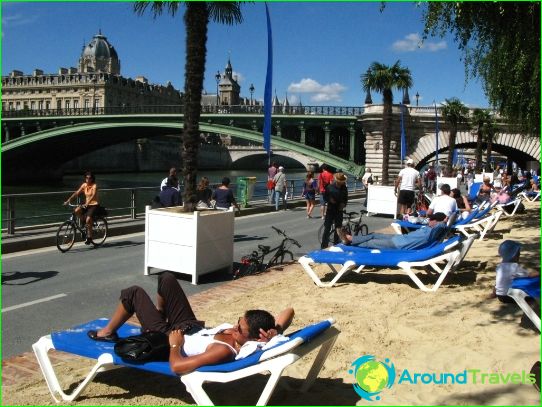 The most romantic and fashion capital of the worldundergoes surprising changes every summer. Since 2002, Paris City Hall continues and improves the project to create an artificial beach. The best sandy beaches in Paris located right in the city center.
Around mid-July on the siteGeorges Pompidou highway traffic stops, as a special sign reads, notifies all drivers. The aim of local authorities was to create a versatile and comfortable resting place for those who for some reason can not go on vacation. Among the tourist beach is also quite popular.
It lasts a beach project a month. Swim in the Seine, alas, it is prohibited. Immediately installed beds, chairs, umbrellas, hammocks, built showers, changing rooms and there are even a vending swimsuit, well, everything you need for a rest. Refresh in the swimming pool located here, children can have fun while riding in a giant transparent balls and adults can take time to play badminton.
The main idea of ​​the project lies in the fact that allVisitors this public beach can use only free. The truth still have to spend money on some delicious pancakes and soft drinks sold in the local retail trays. You get an incredible pleasure, lying on the soft golden sand, enjoying spectacular views of the Seine under the pleasant music.
First discovered the project was the beach "Louvre", located near Sully bridge;
Later, in 2006 he opened a beach "Port de la Gare". It is situated on the waterfront François Mauriac, near the National Library;
"Bassin de la Villette" was opened in 2007. The largest artificial reservoir of the capital of the same name became a "haven" for this wonderful beach.
The project is expanding every year. Increasingly Municipality perplexing questions about the convenience of beaches for the elderly. And here it is actively supported the idea of ​​a sports lifestyle, so in the territory of the beaches you can find swimming pools
for a game of water volleyball and just for swimming,discount rental videos, you can go climbing on a specially equipped rock climbing walls. Lovers of exotic worth visiting classes in tai chi (a type of Chinese gymnastics), as well as various water games and entertainment in the form of boating, water bikes and kayaks, opposite the city administration building located golf Frisbee. A beach near the Pont de Sully is famous for its "musical character".
It often hosts concerts of classical music, chanson, jazz and other genres. Amazing beaches of Paris will delight locals and tourists.
Photos of Paris beaches