Christmas in Paris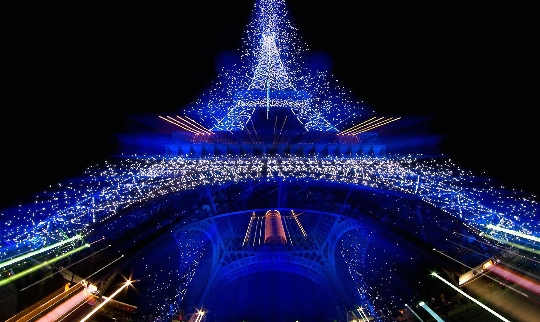 Christmas in Paris - a holiday that bears the name of Noel has a special aura.
Features of the celebration of Christmas in Paris
On the night of December 25, many French people rushin the church at Mass and festive at the same time to look at the scenes depicting the Nativity in Bethlehem manger. On Christmas treat themselves to the French foie gras, truffles, poultry (roast goose or turkey), oysters, cheeses, caviar, frog legs, Christmas cake, a log (BuchedeNoel).
If you decide to enjoy the French cuisine in theParisian restaurants, the Christmas they will delight you with delicious food in a consommé with black truffles and foie gras ifua gras (supplement - raspberry sauce), but dinner reservations recommended not to engage in less than a month to be visited. It is worth noting that in many restaurants, guests are given a gift, "Christmas baskets": they put a festive set of products (for example, there may be several types of cheese and a good bottle of wine).
Entertainment and celebrations in Paris
You are going to skate? This can be done on the rollers on the Boulevard Montparnasse and Place Hotel de Ville. Be sure to head to the Place de la Concorde, to ride on the 65-meter Ferris wheel and enjoy the Champs Elysées, decorated with bright illumination. If there is such an opportunity, do not miss the chance to look at a Mass in the Cathedral of Notre Dame.
Spend the Christmas holidays can be inDisneyland: here visitors delight Christmas fairs, theatrical shows, Christmas rides, a parade featuring cartoon characters. And with 3-17 year old children is to go to the Charlety Stadium: 19-31 December here they can play various games, skiing and sledding, horseback riding.
Christmas Markets in Paris
In Paris, are popular Christmas fairs and markets, namely:
Christmas Village Montparnasse (operates from 5 to December 30): here charities sell the products of their creativity (postcards, crafts, toys, paintings, and other souvenirs).
Christmas market next to the church of Saint-Sulpice (starts functioning from the first days of December to the 24th).
Christmas market next to the Eiffel Tower (operates from December to early January): here you can buy Christmas items in any of the 160 special kiosks.
French Santa Claus Village (Latin Quarter, 2 December - 2 January): one of the 25 houses you can go shopping and enjoy a variety of delicacies.
Count on sales and discounts during the Christmas holidays in the Paris store is not necessary - they cover the French capital at the end of January.
Photo