Areas of Paris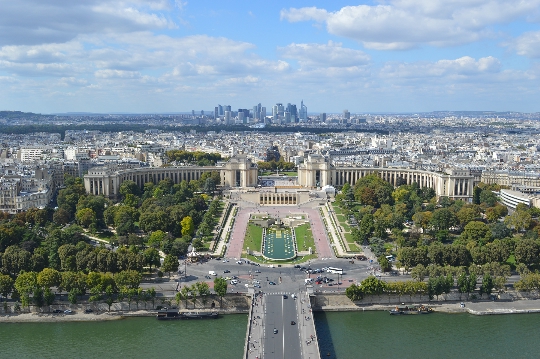 Paris area is well visible on the map - theypresented 20 administrative districts. By Parisian areas include the Louvre, Temple, Bursa, Pantheon, Hôtel de Ville, Saint-Germain, Elisa, Luxembourg, the Palais Bourbon, Gare du Nord, Opera, Tapestry, Vaugirard, Observatoire, Buttes-Chaumont, Passy, ​​Montmartre and others.
Description of the main areas and attractions
Louvre: This region occupies the Cite island and its surroundings, and offers to go on a trip, during which they will be able to visit the Louvre, to inspect the palace of the Conciergerie and Sainte-Chapelle, see the legendary Notre Dame de Paris, a walk across the bridge Pont-Neuf, Orfevr promenade and gardens of the Tuileries. As for shopping, then quench "trendy hunger" can be on the Rue de Rivoli.
Hôtel de Ville: since the area is rich in museums, for cultural holidays can visit the Picasso Museum, the history of Paris, the French art of the 18th century, hunting and nature, the plumbing, the European Museum of Photography. The area is popular and thanks to the tower of Saint-Jacques. By 4 district belongs also the island of Saint-Louis.
Champs Elysees: the area - location location Arc de Triomphe, Parc Monceau, Elysee Palace, the Madeleine church, the Greater and Lesser Royal Palace, the bridge of Alexander III of, Concorde and stars.
Passy: offers guests the Bois de Boulogne, a zoo, amusement park Jardind'Acclimatation, the Maritime Museum and the museums monuments, radio, Claude Monet, Palais de Chaillot. In addition, it is recommended to walk on Trocadero - attention guests deserve eponymous park and aquarium Cineaqua (in 43 of its pools inhabited by 9,000 fish and crustaceans, corals and starfish, life where you can watch a movie in one of the cinemas).
Montmartre: travelers will be able to admire the streets and alleys, getting the cable car to the top of Montmartre hill. The area offers to focus their attention on the Sacré-Coeur, the cabaret "Moulin Rouge" (the guests are entertained by performance "Extravaganza", which is attended by dancers, jugglers, acrobats), Dali Museum.
Where to stay for tourists?
If you decide to stay in the center of Paris, youIt should be prepared for the fact that there are the most expensive hotels. Do you want to live in a hotel in a prestigious area and at the same time you do not mind the high cost of living? Book hotel rooms 8 districts (Champs Elysees).
The tourists, whose aim arrival in Paris - dive into the night life of the city with its noisy parties that last late into the night, can stay in hotels in the bustling 11th district (Popinkur district).
Travelers with limited budget necessary to pay attention to the hotels located in 9 (Opera district), 5 (district Pantheon) and 6 districts (Montparnasse).
A family with children can pay attention to the 15 (Vaugirard) and 16 (Passy) districts where infrastructure is well developed, and not a lot of immigrants.
Photos districts of Paris