Galeries Lafayette in Paris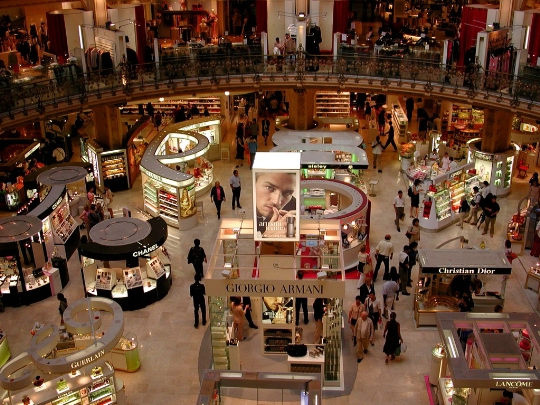 In 1912, Boulevard Haussmann opposite thefamous Parisian Theatre Grand Opera opened a huge mall with a dome, which has become the flagship of twenty years earlier based department store chain Galeries Lafayette. In an area called a mecca of shopping in Paris, he now appears the first number among the other stores and boutiques. This fixed the eyes of all the fashionistas of the world coming down on the plane, arriving in France. It is in the Gallery Lafayette in Paris every Wednesday at 11 am start fashion shows, which set the fashion style and the rhythm of the city.
The Art Nouveau
It is difficult to imagine that a major trading house in Paris fashion could be designed in a different architectural style. This Art Nouveau most came and by the time of construction and purpose.
Kahn Brothers founded their business in 1894,when old age left in the past, and ahead glimmered the light of the new century, which requires changes throughout. At first, the Parisian merchants expected to do only the sale of ribbons, buttons and other haberdashery. But their things went so well that after a couple of years, they have bought several buildings in the neighborhood of their first store and do a global restructuring of the whole block.
The unique glass dome modern passagedesigned by Jacques Gruber. One of the most famous in the world of artistic treatment of glass, stained-glass windows he decorated his many remarkable architectural monuments of France.
Seven floors of paradise
The main building of the Galeries Lafayette in Paris hasseven floors and endless array of boutiques, stores, shops and huge department. Here you can buy absolutely any item of clothing - from underwear to coats and skillful assistants-consultants will help you choose and in the same style ensemble, and an accessory to an existing outfit.
On the first floor of the Galeries Lafayette in Paris underglass dome lights shimmer with all the colors of the rainbow finest crystal bottles. It sells the latest news from the world of fragrances and flavors are familiar, have become classics of the genre.
On the top floor of the fashion mall can beenjoy an excellent lunch at a fancy restaurant or a modest lunch in the self-service café. In both cases, the magnificent view of the immortal creation Eiffel, Sacré Coeur and the Grand Opera visitor will be provided.
Photo