Latin Quarter in Paris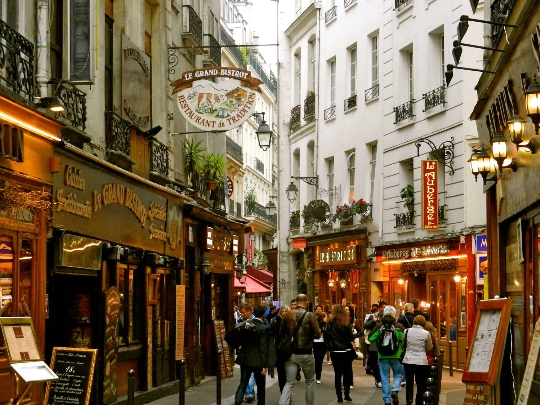 Once in the famous French universitySorbonne taught in Latin. It has become a tradition called the Latin Quarter of Paris Sorbonne street adjacent to the slopes of Mount St. Genevieve on the left bank of the Seine. Today, this place was chosen not only students, but also the guests of the city. In the Latin Quarter, opened dozens of inexpensive cafes and bistros, where you can buy interesting souvenirs and stylish clothes, browse through books in second-hand shops, and bask in the sun in the Luxembourg Gardens.
As a beginner Sorbonne
One of the oldest temples of the world of science wasIt founded in the middle of the XII century and quickly earned a high reputation in the Old World. Sorbonne is a school of theology and the high arts and still is proud of its famous alumni of the first - Thomas Aquinas, Albert the Great and Roger Bacon.
In 1790, a theological school stoppedexist, and then Napoleon decreed its premises were transferred to the ownership of the City University. Today, in the Latin Quarter in Paris, there are thirteen independent higher education institutions, and three of them kept the "Sorbonne" prefix in the name.
Center of the University of Paris findarchitectural monument of the middle of XVII century, called the Chapel of St. Ursula Sorbonne. The building was built in the Baroque style and is under state protection. Today it hosts exhibitions and official receptions.
The best view of the Notre Dame
On the banks of the Seine in the Latin Quarter of Parisbroken lovely Square René Viviani. It offers the best view of the Notre Dame Cathedral, and the main celebrity of a small park - the oldest capital of the tree. The false acacia was brought in 1680 from Guyana, who was then a French colony.
Strolling along the Seine, tourists usuallydrop in second-hand shops, where you can buy postcards and books, engravings with views of Paris and the brand. Near Museum awaits visitors to promote public hospitals. Despite some discordant name, it offers an interesting exhibition on the history of medicine and pharmacy.
Useful things
Following the Sully bridge to the island of Saint-Louis in Paris's Latin quarter, you can admire the panoramic view from the spire of the cathedral of Notre Dame and a walk in the park with interesting modern sculptures.
On the square Maubert on Sundays and Thursdays operates inexpensive food market where you can buy excellent cheeses.
At the beginning of the street is located Karm Police Museum, where you can visit and in the interiors of the now existing gendarmerie.
Photo