Paris Metro: map, photos, description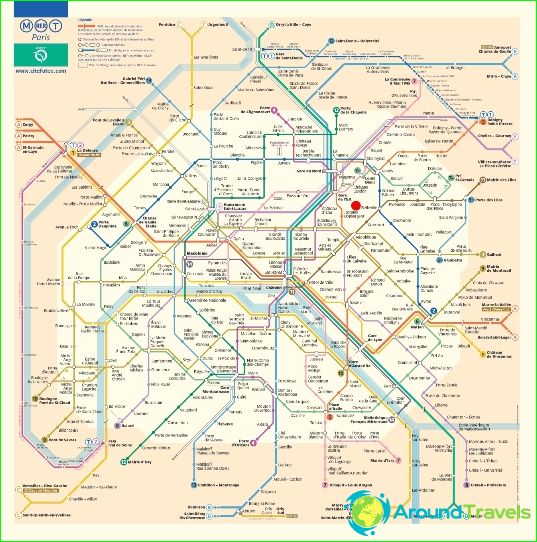 Metro map of Paris
Metro in Paris - one of the oldest in the world, itthe story begins in the mid-nineteenth century, when the city authorities are thinking about solving the problems of transport in Paris, the road which were scored by road. After London, the Parisians began to develop a project to create a network of underground railways, but to implement the plans took half a century - their implementation contributed to the World Exhibition of 1900, consolidated all city resources. March 30, 1898 the French government passed a law on the construction of 6 lines of the Paris Metro. Thus, Paris became the fourth Metro subway built (second on the mainland), giving precedence to London, Budapest and Glasgow.

Paris Metro lines
Opening of the first line was held July 19, 1900year, and the system consisted of 14 lines (159 km and 332 stations) to the beginning of the Second World War. After the war, the underground development has stopped, but in the 70 years it went beyond the line of the city. In 1998, with the opening line 14. serviced by trains without drivers, Paris Metro has entered a new era - an era of full automation. Currently, the subway of Paris is the second busiest in Europe, its system covers Paris and suburbs: the length of paths - 220 km, 303 stations (including 62 interchange) on 14 main lines and 2 short. Only 21 of the Paris metro station is located on the surface (mostly on the line 6).
The Paris Metro system is integrated Networkexpresses the region Ile-de-France (RER) - suburban train system, on which the city boundaries are the common transport tickets are valid not only in the underground, but also on land transport.

Tickets for the Paris metro
Tickets are sold in vending machines, as well as at the box office inthe lobbies of stations. In addition to single tickets, offered traversed contactless Navigo card is filled up, which also applies to all forms of public transport.
Most train doors open onlyafter pressing the door open button or a lever. In some cars there is an electronic board indicating the following stations. However, everywhere - and at stations and in trains and a metro scheme pointers out outputs, respectively.
In Paris, there are subway stations, notserving passengers. Some of them were closed at the beginning of World War II, other - Port Molitor / Muir (Porte Molitor / Murat) and Acxo (Haxo) were built, but not put into operation. Not having access to the surface, they are available only during the tours conducted They lack even go outside. You see them only on special flights, sometimes organized by the management of the public transport in Paris.
Photos of Paris Metro