History Museum of Paris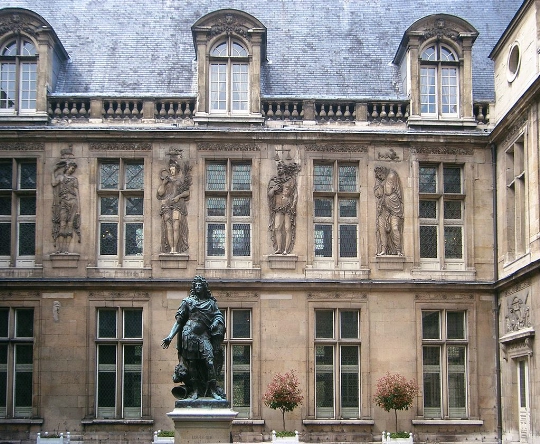 Urban Marais - Paris itselfSight. Its name translates from French as "swamp", and for a long time, this area was outside the borders of medieval Paris. Marsh drained the Knights Templar in the XIII century, and a century later, the city wall was erected permanently cemented position Mare as part of the capital. Aristocrats and know started to build houses here, one of which in the XVI century, bought the rich widow of Brittany. It was in this building, is now the Museum of the history of Paris, the exact address which looks at how the city guides 23, 29 rue de S vign, 75004 Paris.
Two ladies, two epochs
Surname widow, bought the house in stylerenaissance, history has preserved. Her name was Françoise de Kernevenua, and it is slightly distorted transcription of her name gave the second name of the museum - the Carnival. The mansion served as the home of several illustrious personages, but the greatest glory he brought Marie de Sevigne. The writer and socialite, Marquise de Sevigne famous creation, "Letters", which became the most famous in the history of French epistolary literature work. History Museum in Paris, which opened in once belonged to her family house, can tell a lot about the life of the famous writer. By the way, Marie coined the world-famous aphorism, "The more I learn people, the more I like dogs."
About the heart of France
Museum of the History of Paris - this exhibition, where it is easy to learn about the country's capital literally everything. Collections its exhibits are the envy of any gallery or exhibition of global importance:
In the halls of the Carnival on display and in storagestored about 2600 paintings and 300,000 prints. Museum exhibits archaeological artifacts and medieval works of art, objects of folk art and coins, bas-reliefs and elements of interior decoration. Only pieces of furniture are exposed to about eight.
Portrait of Madame de Sevigne adorns the Museum of the History of Paris. Its author, Claude Lefebvre, depicting the famous writer - one of the most famous portrait painters of the XVII century France.
Useful things
To get to the History Museum of Paris is easiest tometro - station St-Paul. It is open to the entrance of visitors from 10 am to 5.15 pm from Tuesday to Sunday. allowed to take pictures in the museum. Entrance to the permanent exhibition is free.
Photo