Night Paris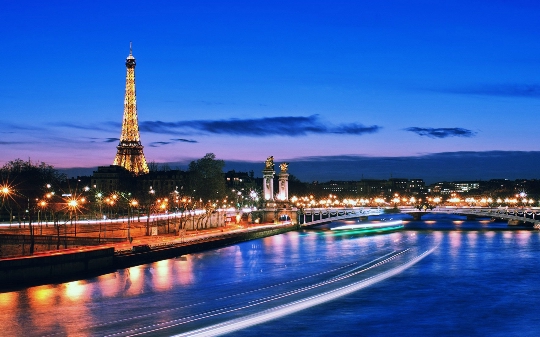 Romantic and beautiful, amazing Parisfor walks at any time of the day or night. And if the morning is especially nice to have a cup of coffee and a croissant at one of the outdoor cafes scattered around the ring it Boulevards, the Paris nightlife offers entertainment an entirely different character. At the twilight of the French capital comes time to amazing entertainment - bright, tickling the nerves, awakening hundreds of different feelings and emotions.
Temples nudity
It is so often referred to as a cabaret in Paris. Their story began in the last century, but over the years the genre cancan has lost none of its charm. Perfect beauty dancers, vivid special effects, expensive champagne and incendiary show - are the main components of a quality night life of Paris. And what else is needed for happiness tired from a day of sightseeing traveler program?
It is performed in cabaret style show of the famousfashion designer Thierry Mugler. He does not do anything halfway, but because of his performance in the theater "Comedy" - it is an amazing spectacle with unsurpassed acrobatics, mesmerizing dances, 3D-effects and endless costume changes. The dinner menu designed restaurant of high culinary fashion, and real French champagne will add luxury and glamor is happening.
Love triangle
Clichy Boulevard has long been a household name forthose looking for a night in Paris, special entertainment. "The triangle of passion" is formed by the metro station "Blanche", "Pigalle" and "Place de Clichy". This is where the focus of cabaret and sex shops, cafes and strip bars, cheap hotels where you can stay for an hour, and stores the corresponding direction.
At the famous "Boulevard of Love" in the invitingly rdeetnight and the oldest Parisian cabaret "Moulin Rouge". Its interiors are very familiar to fans of creative genius of Toulouse-Lautrec, who had an irresistible passion for local dancers and former undoubted admirer of Paris at night.
possible options
For those who do not sleep, night Paris may have quite a decent reputation. Where you can indulge in a variety of fairly innocent amusement:
Order at any travel agency surveya tour through the city and admire the magnificent illuminated, thanks to which all city attractions appear, literally, in a new light.
Visit the bar and try one of the hundreds of cocktails that tirelessly invent local virtuosos behind the counter.
To go to a night club and appreciate the interior and the music that night in Paris is different in style, but always very fashionable and high quality.
Photo