Prices in Paris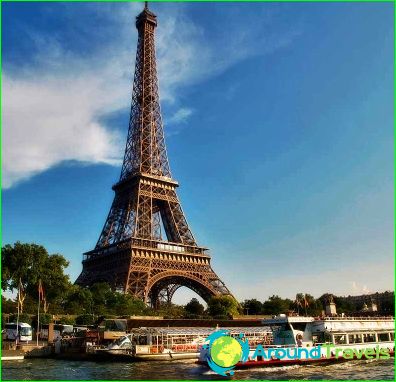 Having decided to visit Paris, the touristfaced with the choice of hotel issues, entertainment venues and restaurants. For holidays in France was a success, you must have a sufficient amount of money. Consider what price in Paris for basic services of interest to travelers.
Accommodation in hotels in France
Hotels in the central areas of the city are always appreciated more expensive than those that are located on its outskirts. The more stars the institution has, the more it will cost.
The cost of the hotel rooms in Paris hotels:
hotel with one star - 50 euros,
Hotel with two stars - 60 euros,
hotel with three stars - not less than 70 euros,
four stars - above € 110,
five stars - from 250 euros.
Tourists who prefer budget accommodation, findit near the Northern Region, which is traditionally considered the most expensive area of ​​Paris. During the night he spent in a double room, will have to pay 50 euros. In Montparnasse same room costs 20 euro more. Self-catering apartment can be rented for 60 or more per day. Living in the area, you can walk to the center with its sights. The Red Light District, you can settle for 30 euros in a brothel, but this option is not for everyone.
Where and how to eat tourist
Most often travelers have breakfast and lunch in thea cafe. It is best to eat in the institution, which is popular with locals. There's certainly a good and inexpensive food. The cafe breakfast is from 8 to 12 euros and dinner - about 15 euros. The prestigious institution can dine for 35 euros. The restaurant dinner with wine will cost about 70 euros, not counting tip. If you do not want to leave a tip, the size of which is usually 15% of the order value, then eat at the counter. Close proximity to historic monuments are located cafeteria. Prices are quite high.
Prices in Paris entertainment
Having arrived in the French capital for a few days, buycurrently a museum card. Its cost per day is 15 euros. It gives the opportunity to explore the museums of Paris, the tower of Notre Dame, the Arc de Triomphe and a few other well-known objects. The entrance ticket to the museums of Paris is no more than 7 euros. Climb the Eiffel Tower can be paying 10 euros. Take a river cruise on the Seine for 9 euros, or go to the water park for the same money. Also it is necessary to go to Disneyland, the adult ticket price is equal to 36 euros. To visit the cabaret "Moulin Rouge", it is necessary to spend at least 72 euros. However, this price includes dinner and dancing.
To summarize, the budget holiday in ParisIt costs EUR 70 per day for 1 person. A tourist who has chosen mid-level hotel, spend a little more - about 100 euros per day. The upper threshold value of entertainment in France can not be determined.
Photo