Paris Romance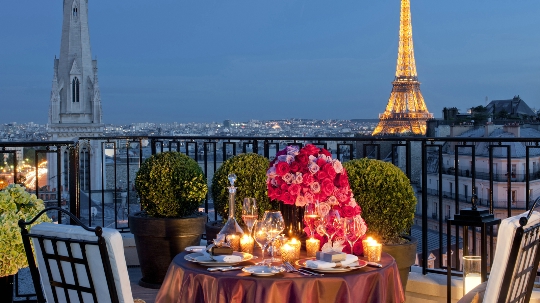 In Paris, it is desirable to go with the person to whomI want to continually confess your love - so this city is romantic, gentle and surprisingly emotional. It is ideal for a honeymoon or celebrating Valentine's Day. It is nice to make a marriage proposal or just kissing on the deck waterbus peacefully swimming by the old and the world's most beautiful architectural landmarks. Lovers romance of Paris presents a particular waterfall feelings filling the heart to the brim.
Five February kisses
Caught in the French capital on 14 February notYou can be selected as needed from a warm hotel room! Valentine's Day is celebrated on a grand scale and irrepressible imagination. The best that can be done in a day, a couple in love - is to capture their moments of happiness for posterity. The most pleasant option to do so - to kiss and be photographed in romantic locations:
You can start with the Eiffel Tower. In its observation deck is cold in February, but the romance of Paris will be clearly visible in the photo and a kiss on the background of lace immortal beauty.
Try to repeat the success of the heroes of the famous picture Doisneau "The Kiss at the Paris City Hall." Passersby would not mind to capture a nice couple on a background of an old building.
Going down under the bridge Marie and kiss chosenor lover in the hopes of living happily ever after with him or her until the end of days. Local legend has it that this bridge - the most suitable place for zagadyvaniya such desires.
As a background for a kiss in Paris Moulin Rouge cabaret approach could not be more helpful. Buy nice things for two can be in adjacent stores for adults.
From any metro station installed fotokabinki,where a kiss imprinted professional equipment. Set a personal record and visit as much as possible subway stations in a single day - an interesting scenario for the holiday of lovers.
Not last tango
For those who prefer to be recognized as a partner inlove as often as possible, Parisians made a special wall in Montmartre. Treasured words written on it on 311 languages, and if you put a hand to the wall of love, fulfilled every wish.
Single travelers to conduct this ritualIt is recommended in order to meet your soul mate at last. The two of you can then go to the embankment of Saint-Bernard, where people dance in the evenings. Your first tango in Paris will be only the beginning of a long and happy journey called love.
Photo