Shops and markets in Paris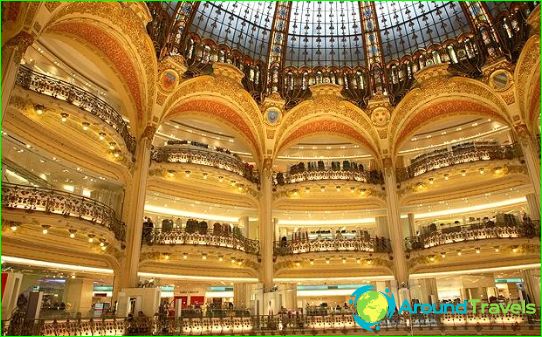 In addition to visiting the sights of Paris,tourists often want to bring gifts to friends, update your wardrobe and decorate your home. Items purchased in Paris, cheer up and emphasize your status.
Shopping in Paris can be substantially empty yourpurse, recommend to ask in advance on the Internet popular collections this season, their prices. Sales begin in Paris on certain dates, which from year to year may vary, so it's best to clarify their terms.
The town has entire neighborhoods with shops similar subjects: cosmetics, branded clothing, household goods and other outdoor activities.
Shopping streets and neighborhoods
Area Mare. This quarter brings together the boutiques of young fashion designers Zadig & Voltaire, Abou d'Abi Bazar, American Apparel, Isabelle Marant, La F e Marabout e et al. On the street de Bretagne many small grocery and liquor stores. If you love the graphics and creative arts, do not miss the shop Rougier & Pl, which is located on the Boulevard du Temple on the other side of the street from the Winter Circus (Cirque d'hiver)
State Paris City Hall. To get here, you can get to the Metro station. In the area of ​​l'Hôtel de ville is a shopping center BHV, which will please a huge selection of items for the home. You can also buy clothes for all family members. The price range from the democratic to very high.
Rue de Rivoli. On the Rue de Rivoli, you will find chain stores H & M, Etam, C & A, Zara, S phora, Footlocker, Minelli, Mango. In the direction of les Halles district along the small streets you will find shops of lesser-known, but the original brands. To the north, in the direction of the streets du Bourg Tibourg, Sainte Croix de la Bretonnerie, boutiques are located with modern decor and antiques, as well as tea shops.
Franc Bourgeois Street. Here are concentrated fashion boutiques and beauty Zadig & Voltaire, Mellow Yellow, Filofax, Guerlain, L'Occitane, Kiehl's Mac, Mufe, Bobby Brown. For clothes for every day and there was a place - boutique Muji. There is also a shopping wholesalers, including selling coats. If you love to cook, then store Epicerie Israel will find a lot of ingredients to improve their skills.
Boulevard Haussmann, Avenue Montaigne, Saint-Honoré, Opera. Here are the most luxurious department stores and boutiques, the most famous brand, featuring the latest trends. appropriate prices. Galeries Lafayette - here you will find shops of Armani, Chanel, John Galliano, Jean-Paul Gaultier, Christian Lacroix, Prada, Sonia Rykiel, Thierry Mugler, etc. These shops also often hosts exhibitions and entertainment shows.. Food store is not inferior to their chic fashion boutiques. On Avenue Montaigne Coco Chanel introduced the world to his first collection of clothing, as well as all the "Chanel №5» famous perfume.
The Paris markets
Wander through the market in Saint-Ouen (metro Porte deClignacourt), Porte de Vanve (Metro), Porte de Montreuil (Metro), Village Saint-Paul (between the Seine and the streets of Charlemagne and des Jardins de Saint-Paul, Metro Saint-Paul). Here you can find not only antiques, but new things.
Isle of Imaje Market, located in the heartParis, on the Saint-Louis island - a market of old photographs. Market Saint-e Ken Paris - the city's largest antiques market. Market Kreason Paris Bastille is located near Place de la Bastille, where you can buy jewelry, prints, paintings and other art objects.
Bargaining in Paris only in the markets. Try to offer "three plus one", it is the most popular with local vendors.
Photo shops, markets in Paris