The streets of the red light district of Paris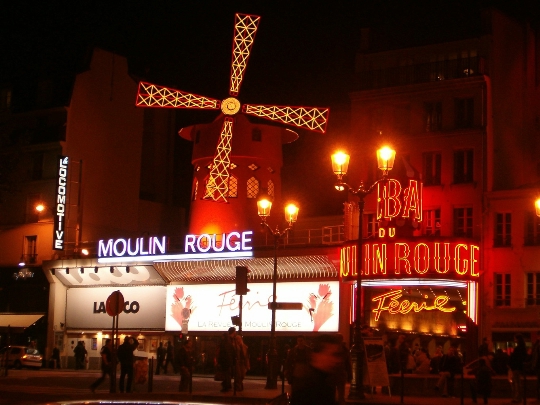 Whether craving spicy adventure, whetherordinary human curiosity attract hundreds of tourists every night on the streets of the Red Light District of Paris, where in all the diversity represented by the sex industry and its products. Glory to the local representatives of the oldest profession has long crossed the boundaries of not only the country but also of the continent, and therefore in the local crowd can hear dozens of languages ​​and dialects.
Three Pillars of debauchery
The streets of the Red Light District of Paris - a fewblocks, located in the triangle between the metro stations Pigalle, Place de Clichy and Blanche. Here are concentrated dozens of small cheap houses, snack bars, sex shops, erotic photography studios, shops and prostitutes for racy show. The climax of sexual cognitive-supervisory pandemonium is famous cabaret of Paris, red wings which symbolize quarters name of love is more than evident.
Moulin Rouge every night lights a sign which has become a sign of attraction and the French capital as the Louvre, the Champs Elysees and Bois de Boulogne.
Chameleon and his fans
About Boulogne forest is to tell apart. It is called the Light of Paris, and he appeared on the site of an ancient oak forest in VIII century. However, Parisians consider it a real chameleon that changes its color and destination depending on the time of day.
During the day you walk the children and couples in love, and withdusk Bois de Boulogne is becoming one of the most controversial places of the city at night. Even the streets of the Red Light District of Paris can only envy passions boiling on the park paths.
Prostitutes of all sexes and ages, transvestites and esgibitsionisty - once at night in the Bois de Boulogne, you can see the most incredible show and find an adventure that goes beyond all decency.
However, care must be taken because this audience is most often goes hand in hand with crime, and the police prefer to keep from corruption Bois de Boulogne at a respectful distance.
The taste and color ...
Those who wish to spend the night in this brothel isgo to the Rue Saint-Denis. Here it is located the vast majority of illegal brothels, and because the area can be rightly called as the street Red light district of Paris. But advanced and economically independent travelers rents a room here for the night, taking advantage of low prices. Especially because the inhabitants and the administration of these hotels did not arise too many questions to their guests.
Photo