Transport in Paris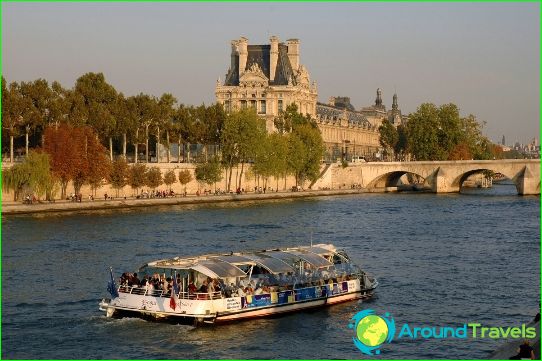 Planning a trip to Paris, capital of France, you must acquire the necessary knowledge in order to know how public transport is best to use and how you can save.
Tickets and billing
For public transport offers a variety of in Paris, which can be purchased at the metro station and the RER, in the information tour desk, tobacconists, newsagents.
Ticket T + - single ticket costs € 1.70, ten pieces are 13.70 euros. For children aged from four to eleven years old are invited children fare cost 6.85 euros.
Ticket T - Single tickets cost 2 euros, which can be bought from the driver of public transport.
Mobilis is a travel card, whichvalid for one day. Note that the duration of one day rather than 24 hours. You must take into account the fact that the price depends on the number of action areas: one - two - 6,80 euro, one - three - 9,05 euro, one - four - 11.20 euros, one - five - 16,10 euro .
Paris Museum Pass - travel cards createdespecially for tourists. This card allows you to visit several tens of museum centers of Paris, the Louvre, the Arc de Triomphe, the complex of the National Center of Art and Culture Georges Pompidou. Map two days is 42 euros for four days - 56 euros for six days - 69 euros.
Metro
Metro is the easiest and most convenient way to travel. If desired, you can test and other vehicles in Paris, but the financial benefits will be significantly less.
Modern metro consists of 16 branches and 300stations. Be prepared for the fact that many of the stations are distinguished by the presence of passages to the other lines. Metro maps are available for free in the underground ticket offices and in the tourist offices. Schedule does not depend on the holidays, weekends: from six in the morning until half past midnight.
RER Trains
In France, operating electric RER, whichallow to reach the center of Paris to the suburbs. Currently, the number of branches is 5, and complete information about the route can be found on a special electronic scoreboard. Ticket price is standard and is 1.70 euros.
The difference from the RER subway is to covermore zones, but it should be borne in mind that some stations are located in the center of Paris, though they are more distant from each other. In the central part of Paris RER and Metro are combined with each other, resulting in formation of the most important crossings.
Buses
In Paris, there are 56 bus routes onwhich move about 2000 buses. This public transport is ideal if you need to pass only a couple of blocks. Bus traffic is carried out from Monday to Saturday from 6.00 to 20.30.
Now you can be sure that a trip to Paris will be easy and fun, because you will be able to move freely throughout the capital of France.
Photo