Water parks in Paris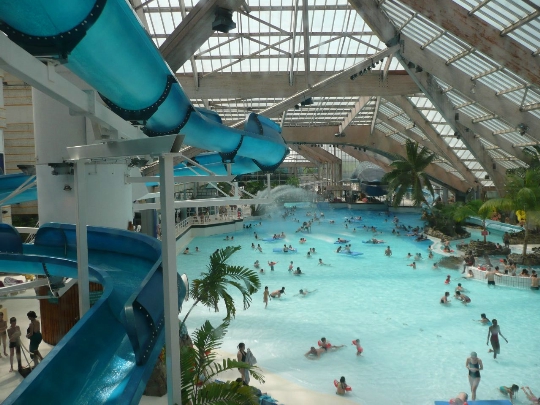 Romantic Paris offers not onlyget acquainted with the styles of architecture in ancient temples and visit the many museums, but also have some fun in the local water park (guests will "dive" into the world of pools and slides).
Waterpark in Paris
Waterpark "Aquaboulevard" features:
pools (they are both on the street and under the dome glass roof) with artificial waves, a freshwater and saltwater swimming pools for water aerobics classes, rivers with counter-current;
water attractions "Aqua kamikaze", "Black Hill" and others;
beach with sand imported from Mauritius;
playgrounds squash, bowling and tennis;
fountains, geysers, waterfalls, water cannons, bubble baths;
sauna area (bio, traditional hammam) with a swimming pool with cold water and a room for relaxation;
children's area Baby Jungle (3-6 years) with pool and Pleasure "Blue Whale" (children will be able to go inside the whale, to see his baby, and then go down to the pool with a shallow hill);
sports shops;
cafes and restaurants ( "Trattoria Pizza & Pasta", "Caf Malongo", "Tarte Julie").
Entrance fee: adult ticket - 28 euros for children (3-11 years) - 18 euros. Important: you can not go to the water park with the kids up to 3 years.
Water Activities in Paris
If desired, you can spend time in the pool "Pontoise" -There can swim during the day (day ticket - 4,5 EUR) and late (10 euros), as well as access to the fitness club and sauna.
Do you want to give yourself a lot of fun? Take a ride by boat on the Seine: offers to go on a romantic night ride with dinner and live music (approximate cost - 50-100 euros) or day cruise, suggesting sightseeing (approximate cost - 10 euros). But if you want you can ride the shuttle boat - this trip, though not imply the excursion program, but you can manage to get a ticket for a few days with an unlimited number of landings (it will cost you 11-13 euros).
Travelers should look in ParisPlage: you can sunbathe, sitting in beach chairs, to spend time in the sports area (available volleyball, frisbee, badminton), kayaking, kayaking, swim in the pool, attend the evening concert (live music), a snack in the cafe on the banks of the river.
Another place where you should look - Oceanarium"Cine Aqua": here you will be offered to watch films on marine life, as well as sharks in "Shark Tunnel," on stingrays, triggerfish and chromis - aquarium dedicated to the lagoon of New Caledonia, and see the fish gobies, sea stars and anemones you succeed in an aquarium, "swarming" of flora and fauna of the Atlantic ocean. And in one of the tanks will appear before your eyes butterfly fish and other inhabitants of the Caribbean.
Photo