Coast France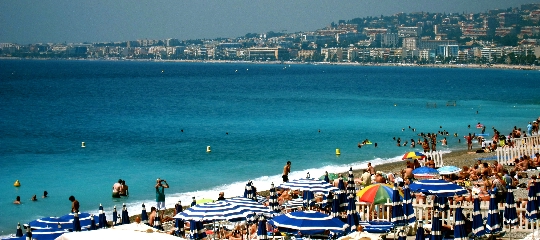 On the coast of France, wishing to rush to enjoy the refined culinary delights and carefree French atmosphere, romance and lovers of beautiful beaches.
France resorts on the coast (the benefits of rest)
The resorts of the Atlantic coast you will be able tosurfing, relaxing on the wide sandy beach (despite the fact that even here in the summer of cool water, it is clean and great for revitalizing treatments), see a show of fish at the Aquarium Ville Juan, go to the Marais Puateven National Park, visit the theme "Futuroscope" ultra-modern movie-park and the resorts of the Mediterranean coast - enjoy the wonderful climate and warm sea, admire the magnificent palaces and villas.
Cities and resorts on the coast of France
Antibes: you can go sailing, go for underwater fishing, ride on a seaplane; go on a tour, includes visits to the Grimaldi Castle; have fun in the amusement park "Marineland'Antibes" (a local water park, you can slide down water slides and swimming in pools, including an artificial surf, ride the rides, watch marine life through the glass vaults underwater tunnel, as well as butterflies in greenhouse "butterfly Jungle"), as well as relax on the beaches of La Gavet (perfect for kids swimming) and Ilets (here the lovers of noisy and fun holiday, where sports equipment) can be rented if desired.
Biarritz: here it is necessary to reach the cliff Vierge and photographed on a background of the statue of Our Lady, to inspect the church Sainte-Eugénie and Saint-Martin, to experience for yourself the action thalassotherapy methods (underwater massage, algae therapy and pressotherapy), to visit the Maritime Museum (on the 1st floor you will find aquariums (24), where you can admire the underwater flora and fauna of the Bay of Biscay and on the 2nd floor offers a view the exhibition, related to the subject of "Fishing") and the Museum of chocolate, go for a boat ride on the boat, as well as the beach Chambre d'Amour which is ideal for sunbathing and surfing (there is a sports school and sports equipment rental).
Marseilles: then you should see the Basilica of Notre-Dame de la Garde, visit "OKCorral" amusement park (there are numerous attractions, including water, and arranged representation of Indians and cowboys), beaches Deux Catalani (ideal for families with children) and Prado (here the lovers of active pastime), play golf at golf de Marseille Salette.
Coast France offers noonly passively relax on the beaches, but also go through the necessary procedures in the thalassotherapy center and spend time in the entertainment establishments in the form of casinos, nightclubs and golf clubs.
Photo