French River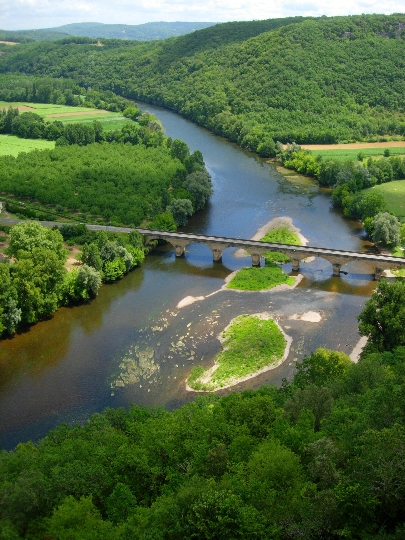 Almost all French rivers flow into the Atlantic Ocean. The place of the source are the Massif Central, the Pyrenees or the Alps. And while all the rivers of the country are incredibly beautiful.
Sen
The total length of the river - 776 km. Source Seine is located in the east of the country, in Burgundy. It is sung conventionally divides Paris into two parts. The right bank has long been here - the center of trade, and the left - the beauty and education.
On the right bank of the Seine Paris located:
Louvre;
Tuileries Gardens;
Champs Elysees;
Egyptian obelisk in the Place de la Concorde;
Etoile;
Triumphal Arch.
It is on the right bank of the Seine is a snow-white Basilica of the Sacred Heart (Sacre Coeur temple). Find it may be on the hill of Montmartre.
The left bank of the Seine in Paris - is:
Eiffel Tower on the Champ de Mars;
Les Invalides, where the remains of Napoleon;
Luxembourg Gardens;
Latin Quarter and the Sorbonne University;
the famous Boulevard Saint-Germain and Saint-Michel.
It is necessary to take a sightseeing tripSeine River on a boat. It offers court «Bateaux-Mouches" the oldest in the country cruise company. The river is very calm and the trip will take place in the most comfortable conditions.
Garonne
Garonne River belongs to two countries - France and Spain. Its source is in the Pyrenees, and it flows into the Bay of Biscay waters.
Garonne can not be called quiet. Taking its source in the Pyrenees, the Garonne made its track through the south-west of France. Bordeaux and Toulouse have to put up with a capricious river, which has a habit of constantly overflows its banks, arranging enormous floods.
Sights:
Bordeaux - the city a great number of historical buildings that are monuments of World Heritage;
"Pink city" of Toulouse, received such a romantic name because of the numerous buildings constructed of brick of pink color;
Agen - in the city of a great many museums and buildings, dating from XII-XIII centuries.
Loire
Loire is considered the most beautiful river in France, and itsValley is famous not only for its great wines but also the numerous castles and palaces. Indeed, the valley of the river, in particular, the area between the cities of Nantes and Orleans, decorated with dozens of castles. That is why, recalling France, it is impossible not to think of the Loire.
The source of the river is located in the territory of the departmentArdèche (south of France) on the mountain Gerbier de Zhonka. The river then calmly goes to Orleans, after which there is the most famous place of its valley. Starting here and ending place of its confluence with the ocean - all before the eyes of travelers appear magnificent castles and palaces have long bygone era.
Photo