Shopping in France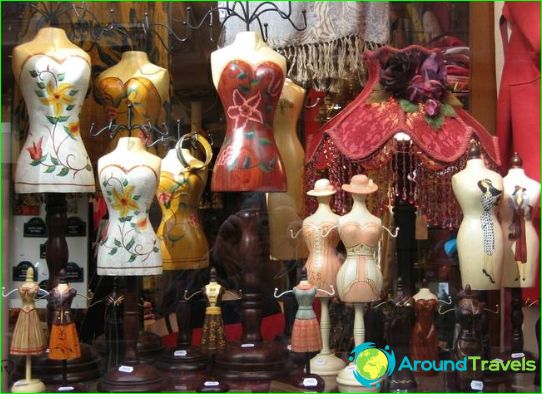 Many tourists go to France is inshopping tours. And no wonder - this is where you can purchase clothing from well-known designers from the collections of pret-a-porter and exclusive things haute couture.
During the sales prices achieved seventypercent of the original price of the goods. Trading in France are not welcome, so the sale - a good opportunity to buy at reasonable prices. Near the main streets of Paris there are many designer shops for those who want something special.
Popular shopping
In France, you can buy goods of average pricecategories, which we sold much more expensive - is Morgan, Naf Naf, Pampkie, Jennifer, Etam, Zara, Chamaie. The large department stores, such as Samaritaine in Paris, you can buy and expensive, and budgetary items are often special deals, a huge selection of toys.
For modern art and simplesomething original is better to go in private galleries or at flea markets, from the artists you can buy watercolors, prints and graphics with views of the city. Those who are interested in books by French authors, find for themselves something interesting in the shops or stores booksellers Maxilivre, Gibert Joseph, Fnac and the book department Galerie Lafayete.
Unable to give up this bottleFrench perfumes or cosmetics of famous brands, which are cheaper than at home, but the authenticity can not be doubted. There are many specialized boutiques, where you will consult about the make-up and help you choose the fragrance. Perfume can also be purchased during the excursion to the museum boutique Fragonard factory, which has existed since 1926. In addition to perfumes and toilet waters, in the factory are a few stands with creams for the face and body and a huge selection of soap.
French cheese and wine, brandy and pastryproducts - very popular and tasty gifts to yourself and loved ones. Supermarkets offer a beautifully packaged set of baskets with different varieties of cheese, you're sure to find something to your taste from the more than three hundred varieties, which produce in France.
Most often, a bottle of wine costs from 15-20 euros. In the store you can safely buy wine at a price of 4-5 euros. Connoisseurs can visit a winery or wine shop Cave - it offers good house wine, tasting, and affordable price. Alcoholic drinks are also sold in stores ICOLAS. For lovers of aniseed alcoholic beverages such as Turkish raki or Italian sambukki a French pastis -anisovy liquor that is drunk as an aperitif.
Very delicious French pastries, bread and eclairscroissants. But in the supermarket to buy it is not necessary, it is better for him to go to the bakery or shop HEDIARD. Delicate meats, pate, the famous pate foie gras sold in butcher shops. There and more choice than in supermarkets, and the product fresher.
To return the VAT in France, present the check and Tax free shopping in sealed packaging. For books, foods, tobacco products and rendered services of VAT is not refundable.
Photos of French goods, shops and markets