Airports in French Polynesia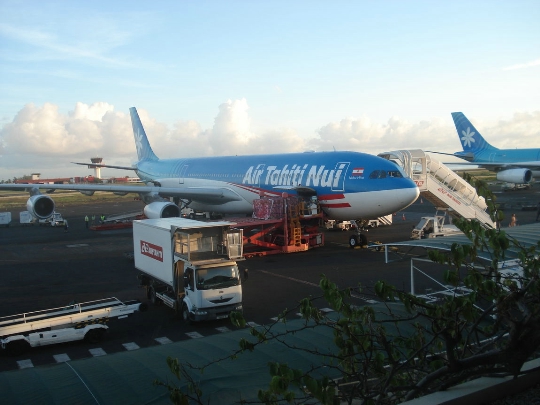 You know, where is Tahiti, whose black pearlvalued worldwide expensive diamonds? And Bora Bora island where dreams go to all the romantic honeymoon newlyweds? Airports in French Polynesia, which was lost in the waters of the Pacific Ocean await those who are not afraid of a long flight and did not stint. In this case, the "expensive" really means "cool"!
Russian fans of privacy in the heavenlyIslands have to get to the docks and spend only in the air for about 26 hours! It is cheaper to do it through the United States, if a visa has to be more expensive - in Tokyo. In the first case, Air France will take tourists from Moscow to Los Angeles via Paris and entrust it to the care Air Tahiti Nui. The second option suggests that in the first part of the journey will be responsible, "Aeroflot", and Tokyo will have seats on the aircraft of the same airlines Tahiti.
The international airport of French Polynesia
Of the nearly three dozen airports islandState the right to international flights provided by a metropolitan air port. The city where the airport is located, is called Papeete and it is separated from the "Vzletka" only 5 km. The way, the airport runway Faa has quite a substantial extent - more than 3400 meters - and is capable of receiving not only small planes carrying tourists to the resort, but the Boeing 747 and Airbus 380.
Airlines and destinations
From the airport, take off regularly Faa:
Aircraft, Air France to Los Angeles and then - to Paris Charles de Gaulle.
Air New Zealand in New Zealand Auckland.
Air Tahiti commits domestic flights to the islands andResorts French Polynesia Oh, Anaa, Atuona, Arutua, Bora Bora, Fakarava, Hiva Oa, Hao Hua Hin, Kaukura, Makemo, Manihi, Mataiva, Maupiti, Moorea, Niau, Nuku Hiva, Raiatea, raivavae, Rangiroa, Rarotonga, Rimatara, Rurutu, Takaroa, Tatakoto, Tikehau, Totegegie, Tubuai.
In addition, the board of the local airlines operate regular flights to Oakland, Los Angeles, Paris and Tokyo.
Hawaiian Airlines deliver fans eternal summer in Honolulu.
On LAN Airlines wings can reach exotic Easter Island and Chile capital Santiago.
Terminal building is divided into fiveStations zones, of which the most popular and busiest international destinations considered to be the second. In anticipation of the voyage, passengers can enjoy a coffee or a snack, buy local souvenirs or jewelry. In the arrivals area there are currency exchange offices.
Transfer from French Polynesia airport in itscapital available on the buses, which stop is located at the exit of the main terminal. They follow around the west coast of the island. Featured on the local resorts and meeting guests transport hotels.
Shuttle boat
The Bora Bora airport passengers will be a surprise. Moved from terminal to the "mainland" can be only by boat, because this air harbor is located on a coral island in the lagoon.
Photo