Flag of French Polynesia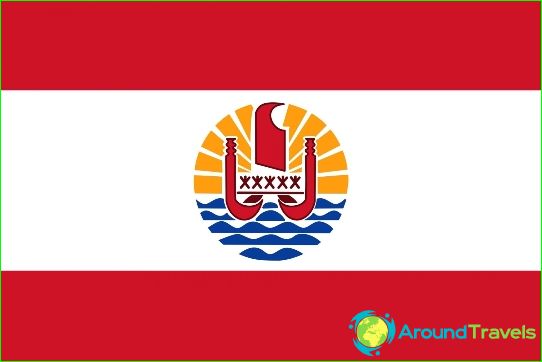 The official national flag overseasFrench Polynesia is the community since 1880 the French flag. In 1984, it was approved by the regional flag, which hung on all the events and public institutions, along with the French.
Description and proportions of the flag of French Polynesia
Flag of French Polynesia is arectangular panel divided horizontally into three parts. Extreme upper and lower bands are painted red, and have a width equal to a quarter of the width of only each flag. Mean - white, and its width two times larger than that of red stripes. In the center of the rectangle within the white stripe is applied to the coat of arms of French Polynesia.
This round emblem, whose main motive -a stylized image of a Polynesian canoe with a sail red. He placed five dark brown men who resemble the five archipelagos in the composition of communities overseas. Behind the canoe depicts the golden rays of the rising sun. It is the source of life on the islands and allows to grow crops. The boat floats on the waves of blue, symbolizing the Pacific Ocean, the waters of which are located the State French Polynesia.
The history of the flag of French Polynesia
Since the establishment of the French protectorate in1842 Islands of French Polynesia remain overseas possessions of the European states. In 1880 the archipelago became a colony, and in 1946 - Overseas Territories. During this period, the official flag of French Polynesia has always been French vertical blue-white-red tricolor.
In November 1984, it was developed and adopted its own flag of French Polynesia. The basis of the flag served as the flag of the largest islands in the archipelago system - Tahiti.
Each part of the archipelago in French Polynesia has its own flag. In Tahiti, it coincides with the flag of French Polynesia, and the difference lies only in the fact that there is no emblem flag of Tahiti.
Flag of the Gambier Islands has a blue horizontal stripes on a white background and the five five-pointed stars in the corners and in the center of the cloth.
Tuamotu flag - blue, red and white, and on the panel of the Marquesas Islands, divided horizontally into yellow and red field depicts Polynesian mask inscribed in a white triangle.
Photos of French Polynesia flag