The islands of French Polynesia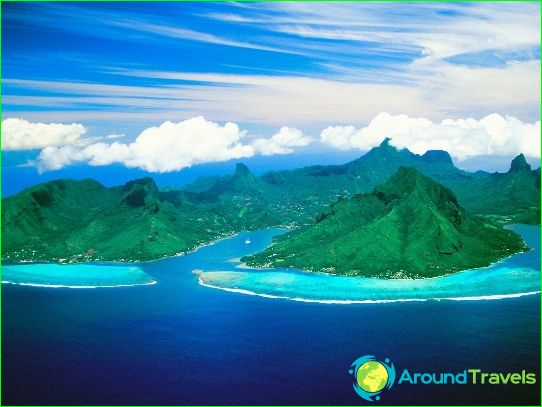 French Polynesia includes in its membership fiveisland groups in the Pacific Ocean. They occupy a large area - about 2.5 million sq. M. km. surface. Not all the islands of French Polynesia have a permanent population. There are only 118 atolls and islands, 25 of which are uninhabited. The most important, populous and popular island - Tahiti. It is part of a group of the Society Islands. Most of the inhabitants of French Polynesia Tahiti preference. The capital is also located here - a city of Papeete.
Overview
The colonization of the islands of French PolynesiaIt began a long time ago. Gradually, the state association includes 5 archipelagos. The latest to join the group considered Austral. Today, the total land area of ​​the islands is 4167 square meters. km. Of the five archipelagos 1 is coral, and 4 others - volcanic. The landscape of the surface is a mixture of low and high-reef islands. Tourists often visit the Tuamotu atolls, the Society Islands and the Marquesas Islands. French Polynesia is considered the overseas community and has the administrative division into regions and communities.
Administrative area:
Leeward Islands (the islands belong to the Company).
Windward Islands (Society Islands from the group).
Marquesas Islands.
Gambier Islands and Tuamotu.
Austral Islands.
a brief description of
Society Islands are divided into the Leeward andWindward. They form the most populated region of the archipelago. The islands of French Polynesia are different volcanic origin. They are surrounded by lagoons, coral reefs and covered with tropical forests. The archipelago has been designated by James Cook. Tuamotu Islands are famous black pearls. As part of the archipelago are 78 atolls and low islands. The largest atoll of Rangiroa is.
Highland areas of land in the ocean actMarquesas Islands. This group is located close to the equator. The population is only on six islands. Gambier Islands - it's 15 areas of land in the eastern part of French Polynesia. They are located very close to the Tuamotu archipelago, but are considered a separate group due to differences in the culture of the local population. Gambier Islands came from volcanoes, and Tuamotu - a coral atolls. In the southern region of the Pacific Ocean are Austral Islands. Tourism there is underdeveloped, as the archipelago is almost uninhabited.
Economy
The islands of French Polynesia are known blackpearls, which are exported. The locals are also engaged in tourism and fishing. On the islands grow coconuts, vanilla, fruits and vegetables. Overseas Community exports vanilla, pearls and coconuts, and imports equipment for industry and food products.
Photo