Hannover Airport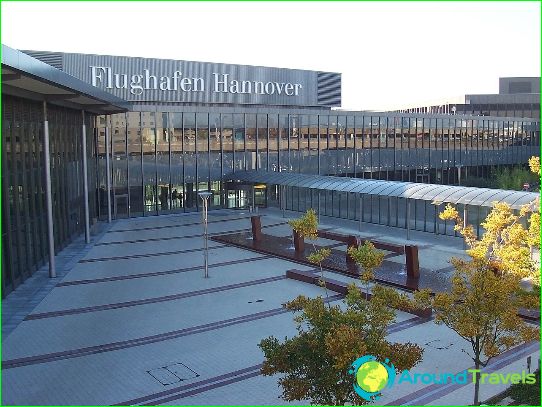 One of the airports in Germany and belongs to the top tenmost important, it serves the city of Hannover. The airport is located about 11 kilometers from the city center, in the town of Langenhagen. Accordingly, its official name - the airport Hannover-Langenhagen.
The airport is the second largest in terms of number ofoverhead lines in the city of Eastern Europe, the first place is the airport in Frankfurt. Among the companies that cooperate with the airport, you can select Aeroflot, UTair Aviation, Air France, Finnair, Lufthansa and many others, all of about 30.
Hanover Airport has three runwaysband. Two concrete, length 2340 and 3800 meters. And one of the asphalt, its length is 780 meters. Every year served about 5.7 million passengers, and takes place in the area of ​​6 thousand tons of cargo. The number of airport staff of 5,200 people.
History
The history of the airport begins with 1945, thenit was decided to establish on the basis of a military airfield civilian airport. Work on the reconstruction of the military airport into a civilian began in 1950. The new airport was to be a reserve for the now existing airport Hanover-Vahrenwald. It subsequently closed due to inability to expand.
The first construction work began only in late 1951, after nearly half a year, the airport was put into operation.
The first international flights began inMajorca and the Costa Brava, in 1956. In the same year it was introduced by a regular flight Hamburg-Hannover-Frankfurt. In 1957, the airport in Hanover has already had more than 130 charter flights.
services
Hannover Airport offers allthe need for expensive services. On the territory of the terminal cafés and restaurants, ready to feed the hungry visitors. In addition, you can always visit the shops, in which there are a variety of goods - newspapers and magazines, food, souvenirs, etc.
For passengers with children have a mother and child room, in addition to the territory of the terminal equipped with special play room for children.
If necessary, passengers can ask for help in the clinic. Also at the airport represented a standard set of services - ATMs, luggage, mail, etc.
For relaxation, the airport is ready to offer two four-star hotel.
Getting there
From the airport in Hanover can be reached in several ways. Hence, there is a regular movement of buses №470 and trains that depart from Terminal C.
Also, the city can be reached on their own to rent a car or take a taxi.
Photos Hanover Airport