Airport Nuremberg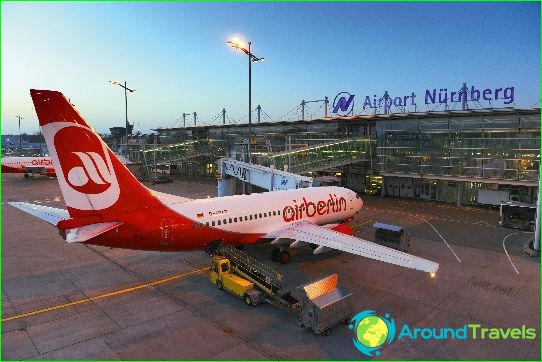 The second most important airport in Bavaria isin Nuremberg. Until the spring of last year, the airport was the main hub for Air Berlin airline. Nuremberg Airport is located approximately 5 kilometers from the city of the same name.
Nuremberg Airport was built in 1955,He was the first airport built after World War II. After 6 years after the construction of the airport was reconstructed for the first time, the runway was extended. After the reconstruction of its length was 2300 meters. A first serious reconstruction of the airport has experienced in the late '70s - early 80s: a new terminal was built and expanded platform.
In the 90s the building was one of the terminals2 additional floors built out. And in the 2000s, the airport opened its own metro station. This fact strongly influenced the increase in passenger airport.
Today, the airport is included in the 10 largest airports in the country, serving more than three million passengers annually.
In the near future it is planned to increase the runway to 3,500 meters.
services
Nuremberg Airport offers a variety of services needed in the way.
For those who like to watch the runwayterminal strip on-site observation deck. In this overview, you can enjoy for free, time - from 5 am to 9 pm. For a detailed review, you can use the telescopes.
stores operate on the territory of the airport,offering a variety of products. The Airport Shop stores you can buy a variety of drinks, snacks, etc. It also offers passengers submitted Shop Schmitt & Hann, offering daily newspapers and popular literature include Russian-language books. Also worth noting is the jewelry store Thomas Sabo, in which you can find a variety of jewelry made of gold, silver, etc. Shops are open from half past five in the morning until eight at night.
Of course, working on the territory of the terminalcafes and restaurants. In Marsche Bistro restaurant you can enjoy local and Italian specialties - pizza, salmon, etc. Also it works familiar to all Mc Donald's.
For passengers with children have a mother and child room.
Transport
As mentioned above, the airport has a metro station, so the city can be reached by subway.
Also from the airport into town are regular buses and taxis.
Photos Nuremberg Airport