Düsseldorf Airport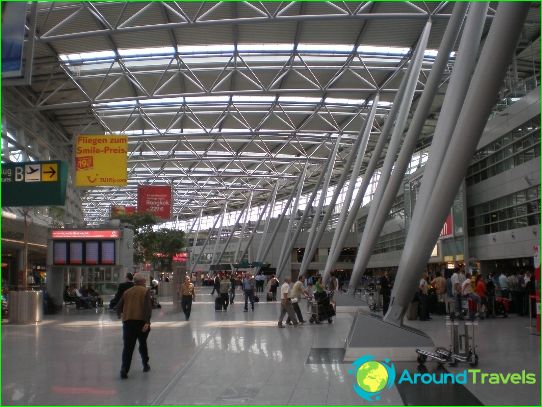 Airport Düsseldorf - one of the most beautiful andcomfort in Europe. Here are all German and conveniently measured. The third largest airport in Germany consists of three terminals, and each year receives more than 20 million passengers. The airport is the main hub of the airlines of Germany as Air Berlin and Lufthansa. The largest Russian airline S7 Airlines, OrenAir, Aeroflot also actively use its services.
History
Since its inception in Düsseldorf airport used it the largest German airline Lufthansa, not only to depart, but also provides maintenance aviamashin.
In the mid 40s, when the Allied troops begancome to Berlin and buildings airport were destroyed almost to the ground. Up until 1950 there were stationed US troops and reconstruction of the airport was not made all the time.
To use as a civilian airportWe began immediately after the transfer of the jurisdiction of the Bundesrepublik Deutschland. At the same runways, built new terminals have been restored. But a fire in 1996 destroyed almost everything. Affected not only the people. Many buildings had demolished and rebuilt. Only two years later, it was able to launch a new terminal and resume international flights.
Service and maintenance
Airport Navigation is simple and convenient. All key components are provided with pointers, charts and information posters. Elevators, escalators and ramps airport allows passengers to flexibly navigate through its territory.
Register Flight and baggage handling herethe most convenient. This makes it possible not to spend a lot of time on pre-and post formality. Check-in begins for 1.5 - 2 hours and closes 30 minutes before departure.
From the terminal to the terminal runs a suspension carriage, it is possible to get to the railway station and Dusseldorf Flughafen Fernbahnhof.
While waiting for the flight at the airport while passes unnoticed. It offers passengers numerous cafes, cozy restaurants, shopping arcade, a great view of the runway, complimentary internet access.
Provided services package and luggage transport. Work banks, tourist office, medical center and even a dental clinic.
For business class passengers a conference hall.
Photos Düsseldorf Airport