Airport Baden-Baden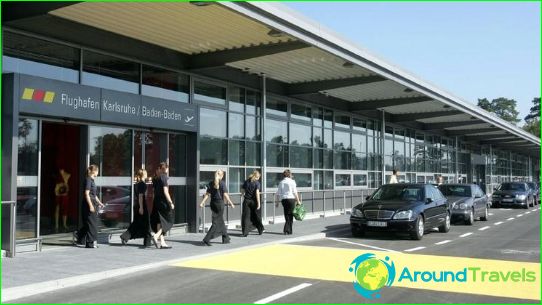 Two places in Germany, Baden-Baden and Karlsruhe,services Airport Baden-Baden / Karlsruhe. Through this regional airport passes more than 1.2 million passengers a year. A large number of flights passing through the largest European low cost airline Ryanair. The airport has one runway, 3,000 meters long.
History
The history of this airport, you can start from 1953year, whereas the Canadian Air Force used it as a military base. This lasted until 1993, and a year private consortium Baden Airpark GmbH was founded later. The first civilian flight from the airport in Baden-Baden has been made in 1997, Baden-Baden - Palma de Mallorca. A regular connections to 19 European cities was established in 1998. In 1999, for the first time exceeded the barrier of 100 thousand of passengers.
airport Development
Until 2001, the airport served Baden-Badenalmost 200 thousand passengers a year. A strong impetus to the development made in 2003 when the airport began to cooperate known airline Ryanair. For 5 years, passenger traffic has increased by more than 6 times and amounted to about 1.1 million passengers. In addition, the airport has made more than 47,000 takeoffs and landings.
As a result, the airport Baden-Baden / Karlsruhe is the second largest in the state of Baden-Württemberg, second only to Stuttgart airport.
The current airport capacity is 1.5 million passengers per year, this figure could be increased if necessary.
services
Airport Baden-Baden offers a variety of services to its passengers. On the territory of the terminal has a café and restaurants. There are also a variety of shops where you can buy the necessary goods.
For passengers with children have special playgrounds.
Besides on the territory of ATMs operate the terminal, post office, travel agencies, car rental companies, luggage storage, etc.
For relaxation there is a hotel right on the airport - 3 star.
Transport
Prior to Baden-Baden, Karlsruhe and other nearby towns can be reached in several ways:
Bus. On the bus route №140 links to nearby cities, for example, to Baden-Baden and Frankfurt. Route №205 connects the airport with the central train station of Baden-Baden.
A train. At the airport there is a train / railway station, which provides access to Baden-Baden and Karlsruhe.
Taxi. Taxis are available near the terminal.
Photos Airport Baden-Baden