The suburbs of Baden-Baden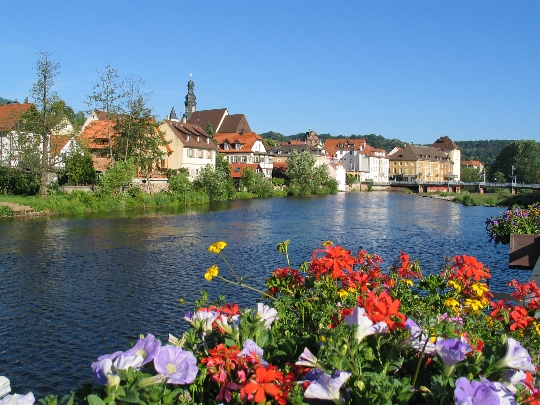 The ruins of the Roman baths in the German cityBaden-Baden clearly point to the long history of this place and its unique healing capabilities. Hot springs resort allowed to flourish for centuries, and the "water" here sought even royals and guests of the royal blood. In the suburbs of Baden-Baden and today is preserved the authentic spirit of the old German half-timbered houses and colorful flowers in pots on the windowsill.
In the cellars of the castle Grape
In the lists of the most famous suburbs of Baden-BadenGernsbach listed town in the valley Murgskoy recognized climatic resort boasts mild weather in any season and luxurious mountain scenery. Its city status Gernsbach received in the XIII century, and in spite of several major fires in its history, he managed to keep untouched its central part.
Thermal springs, authentic restaurantslocal cuisine, fabulous landscapes and panoramic views from the viewing platforms - are not the only advantages of this suburb of Baden-Baden. Its main architectural medieval masterpiece - Eberstein Castle, nicknamed Grape.
The pearl of medieval architecture risesthe city is surrounded by manicured vineyards scattered on the slopes. Taste the famous Baden wines in the cellars of the castle, and enjoy dinner with views of the valley Murgskuyu - the restaurant on the terrace.
Hear the levels of aeolian harp
Old castle on the outskirts of Baden-Baden - a favoritethe place of the public walks, arrived "on the water". This magnificent medieval building on the rocks Battert at an altitude of 400 meters was built at the beginning of the XII century. The uniqueness of his project was the presence in the castle sewer system, which for that time was unheard of innovation.
Old castle served as the residence of the MargraveBaden to the fifteenth century, it is a devastating fire did not destroy the interiors of magnificent buildings. Today, the Knights' Hall of the medieval ruins of installed Aeolian harp - a device that sounds due to the wind fluctuations.
Walking through the Rhine Valley
Neighbourhoods and suburbs of Baden-Baden - thismagnificent Rhine Valley, in which grow the best grapes for the production of wines of Germany. The scenic area laid tens of kilometers of hiking trails, a walk which will allow to enjoy the clean mountain air and perfect scenery southwest Germany.
Photo