Tours in Baden-Baden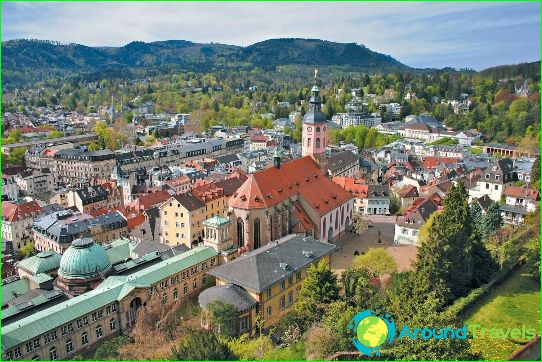 The summer capital of the Old World informallystyled German Baden-Baden. Here you can improve your health in the water, check your own luck in the oldest casino in Germany and counted all the gems on Easter eggs in Faberge Museum dedicated to his work. And trips to Baden-Baden buying wishing to join the society of the rich and famous, is always going to every summer resort renowned German.
History and geography
The name of the city until 1931 just sounded like Baden. But accustomed to the accuracy of the Europeans so often repeated in Baden Baden, emphasizing the name of the region, and that the city was officially renamed in Baden squared.
Healing springs were at a premium even at theinhabitants of ancient Rome, who built here bath and other entertainment and service establishments. Since then, a lot of mineral water under the bridge in the district land Baden-Württemberg, and the popularity of the resort every year is growing. After the European tour in Baden-Baden began to buy even the Americans, and in Russian at the resort spoke not only holidaymakers, but also sellers in souvenir shops.
Briefly about the importance
Fly to Baden-Baden easiest direct flight German airline. The second way - to reach by car or train from Frankfurt. It takes less than a couple of hours.
The climate in the resort is always soft and pleasant toimprovement in body and soul. In the summer it is very warm and dry. Thermometer registers about 25, the heat is very rare. In winter, the temperature readings fluctuate in the range from 0 to 5, but at night the case of light frost.
The main thermal baths for the tour participantsBaden-Baden is called "Caracalla" and "Friedrichsbad". One way to fix the health and mood - Roman-Irish Bath Baden-Baden, where with the help of water of different temperatures and steam banish depression and other troubles.
Tours in Baden-Baden and treatment at the local watersIt is shown in the first place to those who have problems with the musculoskeletal system and blood vessels. It helps to feel better in patients with cardiovascular disease and neuralgia.
Hotels in the resort are open to people with differentneeds and material possibilities, so you can stay in a luxury five-star Park Hotel, and a modest, but no less comfortable, who has only a couple of stars on the facade.
Photo