Berlin Metro: map, photos, description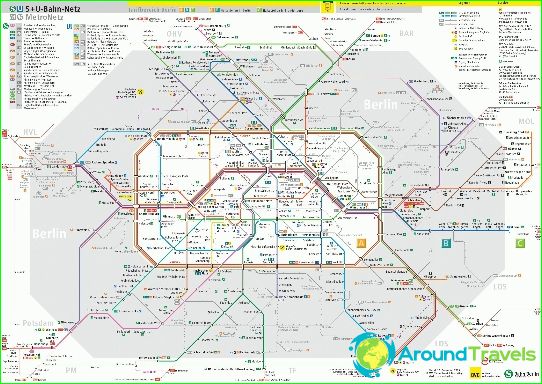 Driving Berlin subway
Metro Berlin, known as the U-Bahn, together with a network of suburban trains of the Berlin S-Bahn is the main public transportation city.
First Berlin subway line was opened in 1902year. Its development in the sunset of his life involved Werner von Siemens - known German scientist engineer, Siemens company founder. subway project was discussed in 1880, and the construction started in 1896. By 1930, the ninth year the total length of roads is 76 kilometers.
During the war, the subway station used asbomb shelters. A metro development stopped after the war. In 1961, after the division of Berlin were closed in East Berlin subway station and S-Bahn.
After German reunification in 1989, the undergroundBerlin waiting for new changes: Open closed stations were expanded and renamed some lines. Currently is Berlin underground 9 lines and 173 stations. The bulk of the tract is under the ground.


Hours Berlin subway
Hours Berlin subway from 4:30 to 00:30. Frequency trains of 2 to 5 during the day. All lines except U4 and U55. work in night on Fridays, Saturdays and holidays every 15 minutes.
Billing travel to Berlin subway pozonnaya. The whole network is divided into three zones: A, B and C. Zone A - the center of Berlin, covered S-Bahn routes. Zone B - the periphery of the central part of the city. Zone C - outside the city with lines stretching to nearby cities, including Potsdam and Oranienburg and to the airport.
Login at the station is free, but for travelMost tickets require composting that can be done only at the stations, but not inside the trains. Monitoring is carried out inside the trains, penalty - 40 euros.
Berlin metro tickets and all kinds ofPublic transport available in many parts of the automated and non-automated. Unlike most other systems, metro, metro tickets for Berlin are not checked at the entrance, but they must be composted at metro stations. On the routes of the trains there are random checks methods inspectors in civilian clothes. The penalty for ticketless travel is 20 times the cost of travel. Children up to 6 years of age, people with disabilities and their carers free. Reduced fare for children aged 6 to 14 years. Tourists are offered WelcomeCard and CityTourCard, valid 48 or 72 hours, with the possibility of visits to most museums and attractions of Berlin.
Berlin Metro was one of the first subways, where access to mobile communication has been organized. In large passages between stations are small cafes, kiosks and bank branches.
Photo Berlin subway
Driving Berlin subway