New Year's Eve in Berlin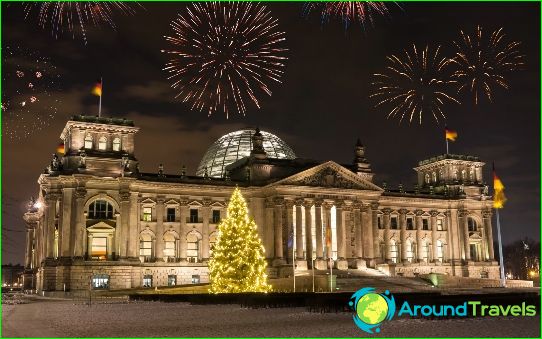 One of the most beautiful European capitals -decent option for the Winter holidays. In the New Year's Eve in Berlin is the perfect place to have fun, to unburden himself a mug of delicious German beer and visit the many attractions that are the most important foundation of the cultural heritage of mankind. In favor of this option is selected holiday - and a short flight, and reasonable prices for flights and hotels.

Gateway to the New Year
Festive night Berliners and visitorsprefer to spend differently, however, many are trying to enter the area in front of the gate Bradenburgskomi to take part in a giant fireworks. New Year in Berlin traditionally starts with fireworks and a festive concert in the number of participants which are always world-class stars.
On Potsdamer Platz the best DJs in EuropeThey offer to participate in a costume party, ensuring high-quality music and Soul Plane "space" sound. By the way, a variant of the meeting favorite holiday in one of the night clubs of the German capital - a great chance to enjoy a variety of cocktails from the bartenders international level, panoramic views of Berlin night and delicious dishes in German cuisine traditions.
Red and gold
Christmas decoration of the streets of the German capitalIt fascinates even those who have been spoiled by travel. The city is dominated by red and gold. Accessories those colors decorate houses and lampposts, gates, doors, windows and fluffy Christmas tree.
Illumination is not far behind, and each Christmasspruce, counter or bench in the park shine a myriad of colored lights. Another important attribute of the holiday - the smell of mulled wine and cinnamon rolls and hot chocolate in the many cafes, bars and restaurants.
Photos of New Year celebrations in Berlin