Berlin Viewpoints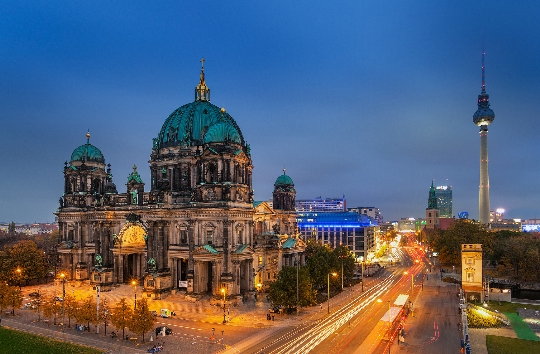 Climbing up to the observation deck visitors to the city of Berlin will be able to assess how it varied and ambitious.
Berlin TV Tower
The tower height of over 360 meters, providesthe disposal of its guests: the observation deck on the 203-meter height; Telecafe rotating at a height of 207 m (3 turns per 1 hour). It is worth noting that the visit of these objects, you can enjoy panoramic views of the German capital.
Prices: € 13 / adult, 8.5 Euro / children from 4 to 16 years; and you can visit the tower from 10:00 until midnight.
How to get there? U5 underground line, U8, U2 - station Alexanderplatz (address: Alexanderplatz; website: www.tv-turm.de).
Kollhoff-Tower
One of the best lookouts locatedmore than 90-meter height - up here on the elevator traveling at a speed of 8.65 meters per second, admire Berlin, in particular, the Potsdamer Platz square. Price: 6,5 EUR / adult (children from 5 years - 5 euros); 15.5 Euro / family ticket.
Address: Potsdamer Platz 1.
Reichstag
Guests can choose to climb the dome for free(Audio guide for 20 minutes, will tell about the Reichstag Building and its surroundings) and Kaefer restaurant on the roof of the building to get the opportunity to reach glance almost all the German capital. Important: for a visit to pre-registered; Visitors at the entrance examination and be subject to verification of documents.
Address: Platz der Republik 1; Website: www.bundestag.de
Victory Column
The platform for the beauty of Berlin Guest Reviewsfind a 48-meter height (top of columns crowned by a sculpture of the goddess of victory, and its height - more than 8 m) - for this they will have to overcome 280 steps (Steps are within the column). And at the bottom it is recommended to visit the historical museum.
Admission for children and students will cost 2.5 euros, and adults - 3 EUR (depending on the season, visitors are expected from 09: 30-10: 00 17: 00-18: 30).
Location: Tiergarten, Glober Stern.
Berlin Cathedral
Those interested in viewing platform will find it underdome of the cathedral - it is necessary to pass 270 steps to enjoy the Berlin Museum Island in particular. Ticket price - € 7 / Normal, 5 euros / discount (price includes a visit not only the site, but the crypt, and inspection of the interior decoration of the cathedral).
How to get there? It offers travelers - trams number 5, 3, 4, 2, 15, and bus number 157, 348, 100 (address: Am Lustgarten; website: www.berlinerdom.de).
Radio Tower (Berliner Funkturm)
To visit provided 4 viewing platforms- They are located at a height of 48, 50 (worth a visit in the restaurant), 120 and 124 m, and allow us to see the different heights of beauty Berlin. Price - € 5 / normal ticket 3evro / discount ticket.
Address: Messedamm 22.
Photo