Streets of Berlin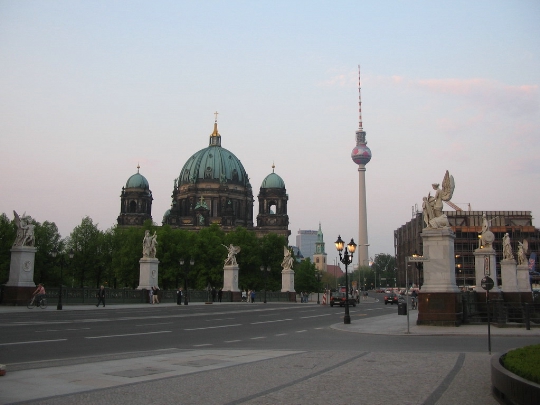 The history of Berlin is reflected in its architecture. Today, the streets of Berlin are trying to transform the high-tech facilities. Updated Reichstag symbolizes the modern architectural concept of the country. The epitome of innovative technologies is also the Lehrter Station, equipped with a glass roof - the power plant.
Berlin is considered an independent federal entity. Its area is approximately 883 square kilometers The most popular areas of Berlin: Tiergarten, Mitte, Prenzlauer, Friedrichshain, Spandau and others.
Attractive tourist Historic District -Mitte. At this point, we concentrated sights, architectural monuments and famous museums. In Berlin, there are six residential areas with interesting buildings in the Art Nouveau style. These include quarter Britz, a quarter next to the park Schiller and others. Houses have different expressive architectural details. Presented areas preserved from the times of large-scale housing reform, held in the city in 1910-1933 gg.
The famous streets of the city
In the center of Berlin is its main artery- Unter den Linden. Back in 1647 there were planted linden trees, through which the street got its name. Boulevard it was considered in 1770, after the construction of beautiful buildings for the wealthy. After the Second World War, the appearance of the boulevard has been restored. Today, new buildings are here, imitating the appearance of historic buildings. Boulevard Unter den Linden - a point of concentration of the glamorous life of Germany. It considered the beginning of the Brandenburg Gate. Boulevard has a length of approximately 1390 m. Move on it can both pedestrians and motorists. It is included in the transport system of Berlin and connects the west and east of the city.
Look Unter den Linden up varietyarchitectural styles. The famous boulevard is a huge amount of expensive boutiques, shops, restaurants and cafes. There is also the Humboldt University, Berlin State Opera, the Embassy of the Russian Federation, the Crown Prince's Palace and other places.
In addition to this there is a street in the city Walkingmile, which shows the outlets of popular chain stores. This street Kurfürstendamm, in the examination which takes several hours. Many boutiques, restaurants, bars and galleries can be seen in Oranienburg Strasse. This famous street is next to the TV Tower and the New Synagogue.
Photos of Berlin streets