Berlin symbol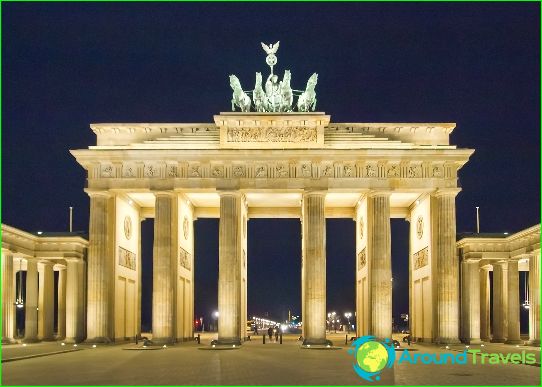 The German capital is famous symphony orchestras, museums, architectural monuments belonging to different eras, international film festival (the main prize - "Golden Bear").
Brandenburg Gate
This attraction (height - more than 25 m) -one of the main symbols of Berlin: here starts the most city tours. The construction is crowned by a sculpture in the form of riding in a chariot (drawn by horses fourth) of the goddess of peace Eyreny (now called Victoria - the goddess of victory). It should be noted that interested persons can go to the Hall of Silence (the northern wing of the gate).
Address: Pariser Platz 7.
Reichstag
The main decoration of the building is glassdome - here you can climb to visit the viewing platform (free) and enjoy the taste of food in Kaefer restaurant, a table in which it is advisable to book in advance (both locations please guests magnificent views).
Useful information: Address: Platz der Republik 1; Website: www.bundestag.de, to carry out a visit to the Reichstag must be registered on the site of the administration building.
Kaiser Wilhelm Memorial Church
Inside, above the altar, you can admirethe figure of Christ (its height - more than 4.5 m), which seemed to hover in the air; Sunday - attend the Organ concert; and the socket - to visit the memorial hall (the history of the church, "tell" the exhibits in the form of the liturgy of items restored mosaics and other securities).
On the square in front of the church should find yourself onNew Year and Christmas holidays, to make a photo on a background of elegant Christmas tree to get souvenirs, enjoy mulled wine and German sausages on a festive fair.
Address: Square Breitscheidplatz.
TV Tower Berliner Fernsehturm
The peculiarity of the tower (its height - 368 meters) - the appearance ofcross on the spherical portion in contact with her sunlight. In addition, a visit to the building will please guests the possibility to visit the viewing platform (the rise of the elevator takes 40 seconds; tickets cost 13 euros, are on sale at the box office and in the machine) and a rotating restaurant (ideal for a romantic dinner, but even if you are not hungry, here it is necessary to order coffee to make a circle in half an hour, enjoy the beauty of Berlin from a height).
Useful information: Official website: www.tv-turm.de, address: Alexanderplatz.
Radio Tower Berliner Funkturm
This recognizable symbol of the German capital,height of more than 140 m, pleases visitors by the presence of the restaurant on the 50-meter height (its interior in the style of the 20s, the institution offers to see from a height of Messe Berlin and most of all the city) and 4 viewing platforms at different heights (the highest interest uses playground at 124 meters altitude, from a different perspective, you can see the attractions, including racing highway AVUS).
Address: Messedamm 22.
Photo