Taxis in Berlin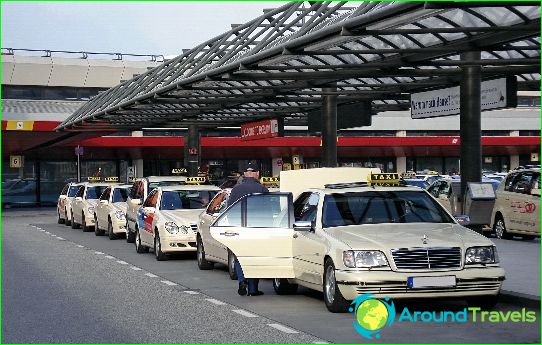 Taxis in Berlin are presented more than 7,000 cars (main brand - "Toyota" and "Mercedes"), whose drivers are always ready to take their clients in any areas of the German capital.
Taxi Services in Berlin
To find a taxi can be equipped on parkingor to order by phone to the car. To order a taxi costs to apply to well-known companies (come to the aid cell or landline phone): Quality Taxi: + 49-0800-263-00-00; Taxi Berlin: + 49-030-202-020 (staff speak English); Funk Taxi Berlin (despite the fact that the manager speaks German, at our company you can order a taxi with the Russian-speaking driver): + 49-030-261-026.
If necessary, you can ask for help from the hotel staff, where you stop for a rest - they leave an order to call a taxi for you.
The cost of a taxi in Berlin
Prices for travel by taxi in Berlin is not low, but in spite of this, wanting to move to this type of transport is becoming no less - is due to the high level of service.
If you are interested to get an answer to the question: "How much is a taxi in Berlin?", Read the following information:
landing fee of 3.2 euros;
the fare is calculated on the basis of 1.65 euro / 1km path (after the counter "wound" 7 km, each additional km will be calculated at the price of 1.28 euros);
for waiting (simple in traffic movement at reduced speed), passengers will be asked to pay 25 euros / 1 h;
surcharge for the transportation of bulky luggage is 1 euro / 1st place.
On average, the trip from Schönefeld Airport to Alexanderplatz will cost 30 euros.
It is worth noting, if you catch a taxi on the street, and you will need to overcome the short distance (less than 2 km), a driver will take you 4 euros.
If desired, you can order a taxi, which canfit 5 or more people (note the MaxiTaxi, which also deals with the transport of disabled and sick people: + 49-030-291-5695): each additional passenger (from 5 to 8 people) in a co-pay for a taxi fare of about 1 5 euros.
Because all taxis are equipped with Berlincounters (if the driver does not turn it on, it will be fined a large sum), the payment must be done strictly according to their testimony. Exception - country trips: in this case, with the taxi driver is to negotiate the price before boarding. If the taxi is possible to pay off the card, it is worth considering that in the method of reckoning you will have to pay 1.5 euros.
No matter where you want to go - the airport, in a nightclub or at a business meeting, taxi drivers in Berlin quickly and comfortably domchat you to your desired destination.
Photos Taxi in Berlin