Water parks in Berlin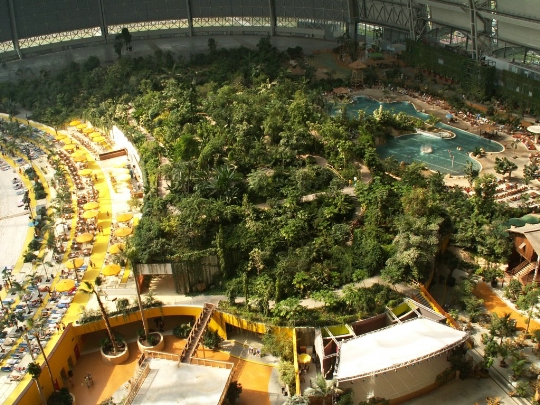 Berlin offers its guests to visit the Panic Room (Gruselkabinett), Ritter Sport chocolate shop, the park "Gardens of the World", as well as in the park of water sports.
Waterpark in Berlin
In the water park "Tropical Islands" maintain a constant temperature and here you can see tropical plants and exotic parrots.
"Tropical Islands" pleases its guests:
an artificial beach with volleyball courts;
water slides, including turbo-slides, swimming pools (for those wishing to classes on akvaerobika) and waterfalls;
kids club "Tropino Club" with a play area, swimming pools, fountains, water slides;
Bungalow with solarium;
bath complex (offers - baths, whirlpools, saunas, including a Turkish hammam and sauna);
bars and restaurants (visitors pet dishesGerman, French, Indian, Italian and other cuisines, but if you want you can use the restaurant with a buffet - first approach to the table for any number of guests eating will cost 15 euros and 2 approach - 7 euros);
fitness clubs, rental cars and mini-golf mini-golf;
African elevator (1 rise in the 20-meter height is 3 euros);
Free Parking.
And yet there are the lessons of Brazilian dance and want to teach the techniques of various types of massages.
It is worth noting that tickets can be purchased at the box office or book a ticket over the Internet, the latter option is cheaper (reservation valid for one year).
Since the price of the stay in the territorywater park depends on the number of visits to the zones, the daily adult ticket will cost visitors in the 24-37 euro (saunas and SPA area is payable on the basis of 32 euro / day, but this amount is reduced if you decide to spend a couple of hours). Children same ticket costs 24.5 euros, and for students and senior citizens (you must provide a document proving) the system of discounts.
We should also mention the price of accommodation(Important for those wishing to spend the night in the water park) - in the hotel, tent or bungalow + breakfast cost 60-135 euros. During the evening performance with adult meal will be asked to pay 35 euros, 6-14 year olds - 20 euros, and without dinner - 15 euros / adult and € 10 / child.
Water Activities in Berlin
Vacationers in Berlin worth visiting in the Seaaquarium Aqua Dom - here you will be offered to get on the elevator in a transparent 2-story cabin through a giant aquarium to the observation deck and enjoy the 1500 fish (50 species).
In addition, it is necessary to look at the aquarium Sea Life- In addition to fish here you can see all kinds of sea creatures (some of the "residents" of the complex, you can touch and examine them through a magnifying glass, and children will be offered to participate in the game "Find treasure").
Photo