Zoo in Berlin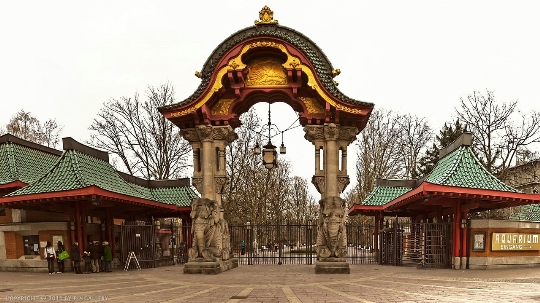 Zoological Garden, the German capital is included in theten of the earliest discovered in the world. He appeared on the map in 1844, and after a quarter of a century the reins took over Dr. Heinrich Bodinus. During his Berlin Zoo has become a real tourist attraction. Doctor supervised the construction of the famous Elephant Gate, adorning the entrance to the park, and offered to build enclosures for better monitoring of ostriches, antelopes, elephants and flamingos. For the convenience of visitors to the territory to open a restaurant, where it was decided to meet with friends and arrange a Sunday family dinners.
Berlin Zoological Garden
That is translated from the German name soundszoo in the German capital. Visitors are given the unique opportunity to meet from 15 000 animals representing more than a thousand species.
Pride and Achievements
The Berlin Zoo can be especially rare to seespecies such as pandas or birds kiwi. Employees take pride in the population of gorillas, which are created as close to natural habitat. Tigers coexist in cages with lions, zebras to rhinos, and favorite pastime was watching the regulars for feeding various groups of inhabitants of the zoo.
How to get there?
The exact address in Berlin Zoo - Hardenbergplatz8, 10787 Berlin, and get to the favorite destinations of Germans and visitors easiest metro U-bahn. It should reach the Zoologischer Garden station, which is located at the intersection of the lines U2, U12 and U9. Zoo included in the tour bus route N100.
Helpful information
Hours Berlin Zoo depend on the time of year:
From 25 October to 14 March the object runs from 09.00 to 17.00.
From March 15 to October 24 - from 09.00 to 18.30
Entrance and ticket sales end one hour before closing the zoo.
On Christmas Eve, December 24 zoo staffgo home early to start preparing for the holiday dinner. Gates close at 14.00. Cashier, where you can buy tickets, are on both sides of the Elephant Gate. Wishes to meet with the residents of the park can choose to see only the zoo or aquarium and more. Combined ticket is cheaper than two separate:
Ticket price to the zoo and combined with a visit to the aquarium for an adult - 13 and 20 euros respectively.
For a child 5 to 15 years will have to pay 6.50 euros and 10.
For students and unemployed entrance will cost 10 and 15 euros.
Family tickets cost 35 and 50 euros and allow entry family of two adults and two children from 5 to 15 years.
The children under five years old are admitted free. It should be ready to accept that age have to present documents with photos.
Services and contacts
The official website of the zoo German capital - www.zoo-berlin.de.
All questions can be asked by phone +49 30 254010.
Zoo Photos Berlin