The airport in Frankfurt am Main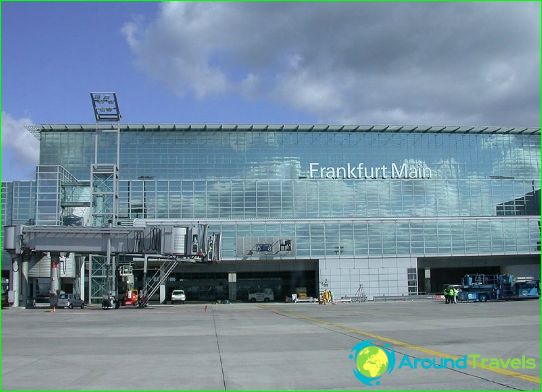 The largest airport in Germany and one of thethe largest in Europe in Frankfurt, its name - Frankfurt Airport. Also popularly another name - Rhein Airport. It is located approximately 12 km south-west of the city.
The airport is an absolute leader in thepassenger traffic in Germany and takes 3rd place in Europe, behind London Heathrow Airport (London) and Charles de Gaulle (Paris). In addition, on an annual volume of transported cargo airport it took 2 nd place in Europe, behind the above the Paris airport.
Airport Frankfurt am Main is the first, which began producing luggage sorting in automatic mode.
Rhein airport cooperates with more than 60 airlines and is a great transit point because of its excellent geographical position.
It is worth noting that with the end of 2011, from 00:00 to 05:00 all flights over Frankfurt prohibited.
terminals
The airport has 2 common terminal and one for theOf VIP-passengers. Moving between terminals is free of charge shuttle bus and train - skyline. Bus stops are located at the parking lot, headway 10 minutes. Train stops are located in both terminals, on the fourth floor.
services
The basic range of services located in the first terminal. It has everything that you may need the passenger.
For the hungry at the terminal are open for cafes and restaurants. Large shopping zone Duty-free.
If necessary, you can buy some medicines from a pharmacy or to ask for help in the clinic.
In addition, the passenger can usebanking services, ATMs, post offices, telephones, etc. On the territory of the terminal there are Wi-Fi zones, as well as special machines with Internet access.
Getting there
The airport in Frankfurt is connected to the city three highways - A5, A3 and A67. There are several ways to reach the city:
Rent a car - in the terminal operating company that provides car rental.
Bus - travel time will be about one and a half hours, the ticket costs 12 euros.
Train - right in the terminals are w / station. On the one trains to Frankfurt and the other in the next town.
Taxi - the cost of travel to the city center will be around 30 euros.
Photos Airport Frankfurt