Metro Frankfurt: circuit, photos, description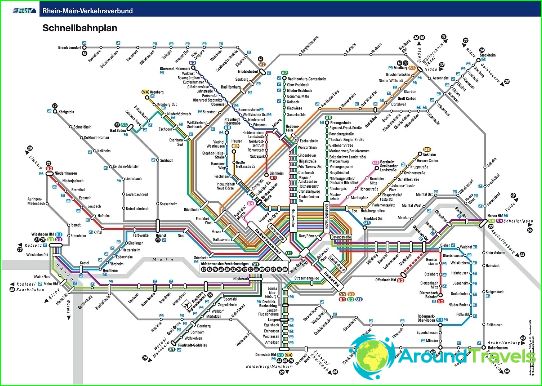 The public transport system inFrankfurt includes bus and tram routes, suburban electric trains and subway. Metro Frankfurt offers nine existing lines. For entry and exit of passengers and transplant them to open 86 stations, 27 of which - underground. The total length of all routes of the Frankfurt subway is 65 kilometers. Every day, this kind of public transit carries not less than 320 thousand passengers, which is annually about 120 million.
The first subway line FrankfurtIt was commissioned in 1968. Today, the city has five subway lines directly and four - light rail included in a single U-Bahn Frankfurt system.
In the city center, all the lines are undergroundlocation, but on the outskirts, they come to the surface and followed by a train on rails laid on city streets. Metropolitan connects Frankfurt with satellite towns Oberursel and Bad Homburg.
Each route has its own subway Frankfurtalphanumeric code and a custom color scheme of the city transport system. First line U1 is indicated in red and lets get from South Station to Ginnhayma. The same station are "green" the U2 branch and "blue" U3, starting in Gonzenhaym and Hohmark respectively. Before the eastern city station can be reached on the "blue" the U6 train and central - in the "dark green" U5.
Hours Metro Frankfurt
Metro Stations Frankfurt opened for5.30 passengers and operate mainly to midnight. The minimum interval of trains during peak hours is about 2.5 minutes, the rest of the train have to wait up to five minutes.
Photos Metro Frankfurt