Shops and boutiques Frankfurt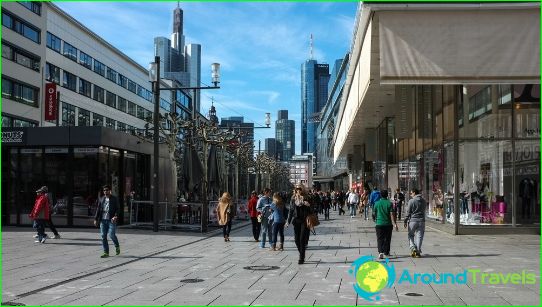 Frankfurt - business and transport centerGermany, a dynamic modern city. Business people respect the precision and discipline, so it can trade areas are located in the city is compact, streets flow seamlessly into one another, which saves time and protects the foot.
Popular outlets
If you exit the subway station Hauptwache, inwestbound stretch of the street and Shtayveg Gёteshtrasse, and to the east - widely known Zeil. In parallel, the Zeil south is another shopping street - Tёngesgasse. Kaiserstrasse is close to the south-west of the aforementioned metro station, but you can go closer - at the station Willy-Brandt-Platz, or start learning the shopping street from the Central Station.
With regard to the most expensive brands in theFrankfurt is better to forget about them. Will expensive and the selection is poor. If no Armani and D & G light is not nice, and the rest is meaningless, then welcome to the street couture Gёteshtrasse. Not far behind on the part of the glamor and Kaiserstraße. More affordable brands can be found on the continuation Gёteshtrasse - street Steinweg and, of course, on the Zeil.
On the pedestrian street Zeil full monobrandboutiques with narrow specialization, and major department stores. «Peak and Cloppenbur», «Karstadt», «My Zeil», «Zeilgalerie» saves time buyers can quickly become familiar with a variety of goods in the city, to orient in local prices, shop, and relax with a cup of coffee or something stronger.
Kaiserstraße - old street with preservedhouses made of sandstone, which is rare due to the massive destruction of the city during the Second World War. Here you can find a standard set of expensive retail shops - clothing, jewelry, accessories, interior design for photographic and video equipment, art exhibitions and sales, antique shops. From department stores the most noticeable - skyscraper BFG. Under the exclusive boutiques in its three floors allocated.
Main specialization district of Alt-Sachsenhausen - works of art and antiques. On the waterfront of the River Main on Saturdays until about two hours of the day working the flea market.
Photo shops in Frankfurt am Main