Airport in Cologne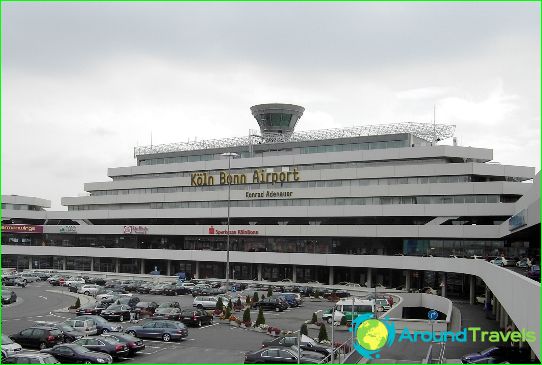 Konrad Adenauer Airport - International Airport, located not far from the cities of Cologne and Bonn, 15 and 16 km respectively. The airport is located in the reserve Wehner-Heide.
This is the sixth airport in Germany in terms of passengers per year, and the second volume of freight traffic.
Cologne Airport is one of the few in the country that operates around the clock.
History
Konrad Airport has a rich history,which begins in 1913. It then made its first flight of artillery reconnaissance. In 1939 a full-fledged airfield, which was used extensively during the time of war, was built here.
In the postwar years, the airport owned by BritishSun. Already in 1951 the first civilian flights were launched immediately after the construction of the first runway. By 1960, it was put into operation two more runways.
At the end of 1970, in Cologne airport landed the first widebody airliner Boeing 747.
In 1986, the US airline of the UPS Airlines has used this airport as a major transit hub.
At the end of the last century the active reconstruction of the airport was started, then an additional terminal building was built, as well as several parking lots.
services
Cologne Airport offers a range of services that will be more comfortable to spend time at the airport.
Different stores will buy products such as souvenirs. Cafes and restaurants will not allow passengers to get hungry.
If necessary, you can apply to the medical center, located at the airport.
In addition to passenger services include banks, ATMs, currency exchange, post office.
For business class passengers has a conference room and a business center.
In the second passenger terminal is an information office, where you can solve some problems. For example, book a hotel room or buy a city map.
parking
Airport in Cologne has plenty of ample parking, a place where you can book in advance.
How to get to the city
As I mentioned above, to the city from the airport15 km. From early morning train from the airport leaves, which quickly deliver passengers to the city center. In addition, you can take the bus. The latter method is, of course, taxis. The price of travel will be about 30 euros.
Photos Cologne airport