Shops and boutiques Cologne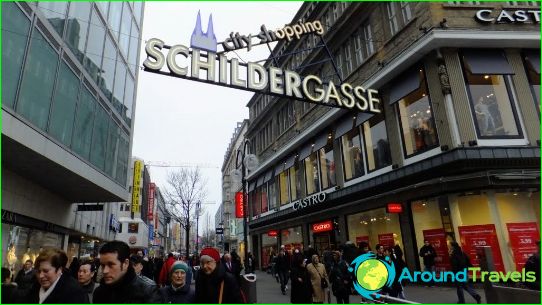 Cologne is proud of its two thousand years of history,Cologne Cathedral, the University, many museums and attractions. It is located on the sung many workers pen Rhine river. In short, he has all the prerequisites to use love tourists. Trade a wide range of products is also underway in the city is very smartly.
Popular shopping streets of Cologne
Schildergasse in ancient times inhabitedartists and manufacturers of signs and emblems. From this kind of activity, and there is a street name. Recently, she was the most popular in all of Germany. It is said that now the palm intercepted Frankfurt Zeitz. Shopaholics hurry on Schildergasse with packages from reputable companies «Esprit», «Orsay», «New Yorker», «H & M», «Douglas», «SportScheck», «WMF», «Galeria Kaufhof», «GAP». Fashionable men do not pass by a three-story department store «Pohland». There you can buy complete sets of clothes, attention to detail, for any occasion. For leather goods welcome to the multi-storey «Nierhaus Lederwaren».
Mittelshtrasse - the street for luxury shopping. People here less than Schildergasse. Here are some of its stores: multi «Boutique Marc» clothing shop, women's shoes and handbags «Donna Laura», «Claudia Carpendale» sells its own clothing line, as well as the glamor of Philipp Plein. For elegant men's suit store «Don's», and for young fashionistas have «Onkel Bill». For a beautiful lingerie and swimwear Welcome to «Label Princesse».
Dyurenershtrasse - as well as Mittelshtrasse, designed for the cream of society. A cup of tea or coffee at a table in the boutique, individual consultant - every whim will be executed.
Ereshtrasse - a favorite shopping street for localresidents. In addition to the products of German manufacturers and ubiquitous global brands exclusive present here. For example, an English tennis shop «Fred Perry», invented the polo shirt. The cult Spanish footwear company holds here his store «Camper». Their shoes are of high quality and unique design. For Dentima Italian style go to «Garcia» - shop of the Dutch entrepreneur. «Anouk» - shop of rare and simultaneously iconic European brands - «Vila», «Yumi», «Only» and air «Jus d'Orange».
Hoyeshtrasse - the range of goods on the streetmuch wider. In addition to the wardrobe of things for mid-market where you can buy electronics, interior goods, toys, souvenirs and trinkets simple. Prices are moderate.
Brayteshtrasse - its name is translated as"Broad Street", is focused on tourists. Located in the heart of the city near the opera house. Of the original boutiques note «Barbour» clothes polo and cricket - why not visit for the sake of the overall development. Another store that you can visit in order to excursion - antique «Antiquitäten Heubel».
Photos Cologne stores